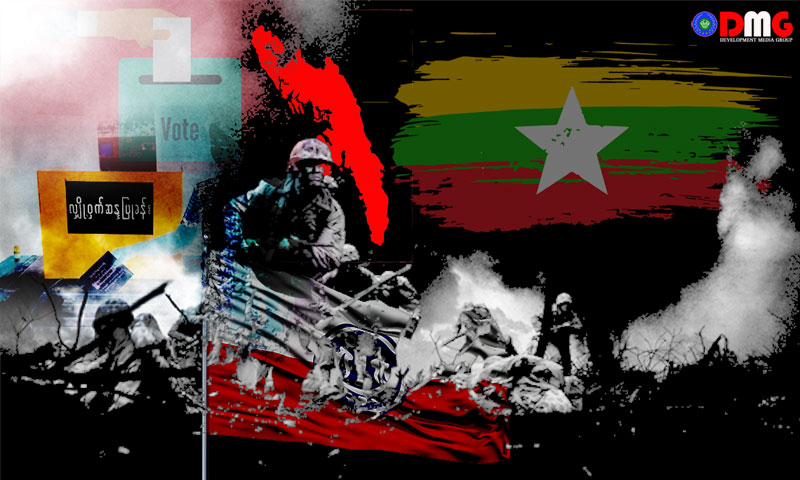 By Min Htee | DMG

With Myanmar's third general election under its current constitutional system scheduled for November 8, campaigning is underway — albeit limited by local and nationwide restrictions imposed due to the COVID-19 pandemic. 
Arakan State, having recorded the country's second-highest rate of COVID-19 infections amid ongoing armed conflict, is being watched closely as election season unfolds. 
The ruling National League for Democracy (NLD) has not fielded candidates in some townships of northern Arakan State, prompting an interesting question to consider: Why did the NLD, which won a landslide victory in the 2015 general election, decide not to contest some seats in Arakan State?
Is it owing to the civil war in Arakan State, which has intensified under the NLD government? Or is it due to the track record of success that Arakanese political parties have traditionally had in Arakan State's northern townships? Or is it the result of a breakdown of trust between Arakanese people and the NLD government that took office after its 2015 electoral triumph?
State Counsellor Daw Aung San Suu Kyi, the chair of the NLD, has never spoken for the Arakanese people's side on Arakan State's affairs and has never helped meet their needs nor defended them when they have had their human rights violated. 
As the two-year anniversary of the conflict between the Tatmadaw and the Arakan Army approaches, the war is intensifying, not de-escalating, in several Arakan State townships. The number of displaced people is now more than 200,000, and Arakanese people are facing daily human rights abuses. That includes indiscriminate shelling of villages, with ostensibly errant artillery shells responsible for numerous civilian casualties.
At a news conference on September 4, a Tatmadaw spokesperson said the military had warned of a deteriorating security situation in some conflict-affected parts of Arakan State. Later that day, President's Office spokesperson U Zaw Htay said only five townships in Arakan State were certain to hold elections, with it being too early to say what the Election Day status of the state's other 12 townships would be. 
The townships likely to vote are Gwa, Thandwe, Taungup, Ramree and Manaung, in the south of Arakan State. In the 2015 election, the NLD won the seats in four of those townships, apart from Ramree, where the Arakan National Party won. 
In Need of Representation 
Arakan State is among the poorest states in Myanmar and has drawn international attention due to conflict dynamics in the state over the past eight years, beginning with inter-communal violence in 2012. More recently, the Tatmadaw-driven uprooting of more than 700,000 Muslims to neighbouring Bangladesh captured global headlines in 2017. Over the past two years, the crisis du jour has been war between the military and the Arakan Army, which has prompted another round of mass displacement. 
Because of the challenges accompanying conflict and poverty, I conclude that elections should be held in all 17 of Arakan State's townships. There are many short- and long-term issues that must be addressed and conveyed by elected representation in the national parliament as well as the state legislature in Sittwe.  
Both sides of the Tatmadaw-AA conflict are responsible for doing their part to halt the fighting so that elections can be held. If elections cannot be held in some townships, as U Zaw Htay has predicted, there is a risk that the battlefield grows in these places while the political space shrinks. 
At stake is inclusivity, and trust between the post-2020 government and the governed, which will be either fostered or damaged depending on the extent to which people in Arakan State feel their voices are represented in the state and national legislatures.
We must acknowledge that Myanmar's civil war was born alongside independence more than seven decades ago. To bring an end to the long-running conflicts, it is necessary to ensure that the political demands of ethnic people are met; namely, equality, a federal system and self-administration in ethnic areas. Successive governments have neglected the political requirements of ethnic people, and so the armed struggle continues. 
This, however, is ultimately untenable.
People are suffering losses and facing human rights abuses. People are being killed unnecessarily. Villages are being torched. There is a lack of education access and healthcare services.  
The Parliamentary Path
The 2020 election offers another path, but that is largely contingent on whether voting is held across as much of the country as possible — even in regions like Arakan State, where the challenges to holding the polls are formidable.
A government that represents the people must always listen to their voices, including at the ballot box amid adversity. A government that values democracy needs to follow democractic standards such as equality, accountability, transparency, respect for human rights and, yes, by conducting free and fair elections.
The government is responsible for holding elections to the extent practicable in Arakan State, but it is not alone in having roles and responsibilities this election year. Arakan State-based political parties and civil society organisations must also work together for the success of the polls. 
The government needs to call for both armed groups to halt their fighting ahead of the election. Some form of government intervention is long overdue, in this case for humanitarian reasons but also to ensure the continuation of representative democracy in Arakan State. 
The Tatmadaw needs to add Arakan State to its unilateral ceasefire declaration through Election Day as a trust-building gesture. Meanwhile, the government needs to revoke its declaration designating the Arakan Army as a terrorist group, with the aim of eventually moving toward political dialogue between the two sides.
Elections are a fundamental barometer of the health of a democracy. As such, it behooves all current stakeholders to do their part to make the upcoming vote as inclusive as possible. If the NLD returns to power, it will only be to the next administration's benefit to have built up goodwill and trust in Arakan State by making every effort to hold elections in all 17 townships.