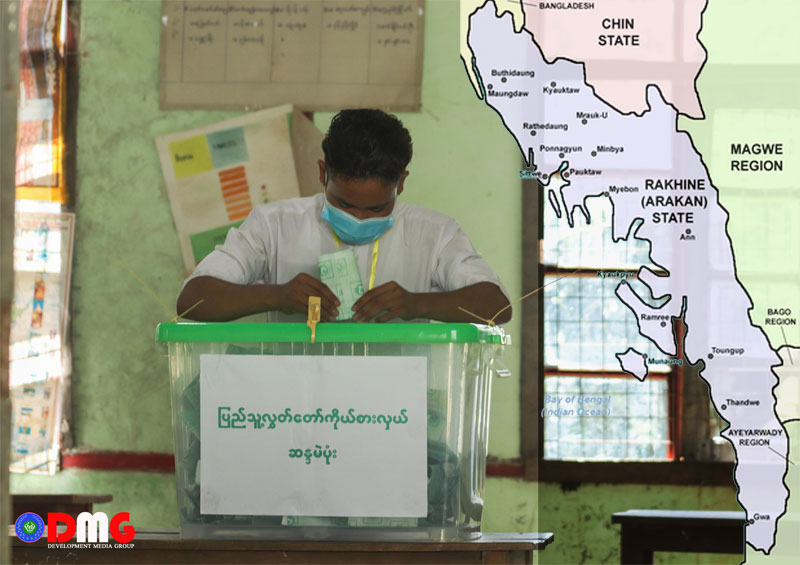 Arakan State, one of Myanmar's 14 administrative regions, has a population of 3.1 million, comprised of two main communities: the Arakan (Rakhine) Buddhist majority and, second-largest, the Muslim community, with smaller ethnic groups of different faiths.
Since 2012, along the pathway of Myanmar's political transition, Arakan State has seen two rounds of deadly violence; 2012-13 communal violence and the military-led clearance campaign in 2017 that led to the exodus of over 700,000 people to neighbouring Bangladesh; targeting of the Muslim community, resulting in increased segregation, minimised interaction among the two main communities, and complicating the social and political situation in Arakan State as a whole.
The situation is compounded by citizenship issues, restrictive policy on freedom of movement, and the limited ability of marginalised groups to carry out livelihood activities in a safe environment under a dramatically shrinking market. Again, the state's complicated social, economic and political situation is further exacerbated by ongoing armed conflict between the Myanmar military/Tatmadaw and the Arakan Army (AA). The conflict remains detrimental to all people in Arakan State. 
The Arakan Army and Arakan Political Aspirations
While escalating armed fights, the National League for Democracy (NLD)-led government designated the Arakan Army as a terrorist organisation. The decision prompted tough and unprecedented armed clashes in high intensity between the groups. Civilian deaths, arbitrary arrests and internal displacement increased rapidly as a result.  
The January 2018 killings of Mrauk-U protesters over a ban on a planned commemoration of the fall of the Arakan Kingdom and the arrest and ultimately imprisonment of Dr. Aye Maung, a prominent Arakanese politician convicted of high treason, reinforced further and amplified grievances. Additionally, it was widely seen as Burmese structural suppression under a Bamar majority-led transformation into a "democratic" regime.
U Tun Thar Sein, a member of the Arakan State Hluttaw for Mrauk-U constituency, said many youth joined the Arakan Army because the Myanmar legal system had failed to protect Arakan civilians during armed clashes. 
"Then, they came to see the Arakan Army as the solution," he explained. 
The emergence of the Arakan Army and its popular support from different corners of Arakan's population is a direct manifestation of the prevalence of belief that armed struggle is an alternative solution to unrealised electoral politics and legal justice in Arakan State.
Widespread frustration over the perceived failure of ballot politics and the justice system, and backlash anger have served as fertile ground for the Arakan Army's growth, with increasing numbers of new recruits. Normal life in rural villages sees politics as complex and many of those living its consequences do not understand the finer points of concepts such as democracy, federalism and self-determination.       
"I have not heard the terms federalism and self-determination," said a 32-year-old IDP woman with three children from Mrauk-U Township. "However, we want peace and a safe life. We are Rakhine and feel safe when the Arakan Army is near to us, because they are Rakhine."
A man sheltering at Nyaung Chaung IDP camp, who previously resided in Tinma village, said: "I do not know the political results of the election, but I expect something from the Arakan Army. If they win, they will govern Arakan. That is my understanding."
Then, armed conflict in the northern mountain ranges and, even more so in the Arakan State heartland, intensified and came into regular form. It led to a high number of civilian deaths, difficulties in local administration in conflict zones, and restrictions on mobility and livelihoods.
After a Failure of Electoral Politics in Arakan, Are Renewed Elections the Solution?
Arakan State has gone through two general elections since 2010. The Rakhine Nationalities Development Party (RNDP) won a majority of seats in a local landslide victory in the 2010 elections, and the Arakan National Party (ANP) saw similar success in 2015. Both Bamar-majority winning parties — the Union Solidarity and Development Party (USDP) in 2010 and the NLD in 2015 — failed to consult with the winning Arakan party in forming their respective local cabinets. 
This exclusion and failure to address local Arakanese political aspirations and the community's long-standing grievances — related to poverty, escalation of armed conflicts, structural oppression and inter-communal conflicts — has called for different approaches to the state's political nightmare and its end goals.
One member of the Arakan State Hluttaw put it as an advocacy for "elections, for Arakan's voice [and] without it, our representation is nowhere."
In fact, the majority of the Arakan population has apparently determined that electoral politics (the achievement of one's aims at the ballot box) is not an effective means of achieving political aspirations, such as self-determination and the development of the state. It pressingly indicates that the central government needs a different political strategy to address these goals in the immediate term.
"We Arakanese [Rakhine] won elections over two terms, but we do not have power to change our lives," said a driver in Mrauk-U Township.  
On October 16, 2020, the stunning and sweeping decision by the Union Election Commission (UEC) to controversially disenfranchise more than 1.2 million Arakan State voters led to more isolation and denied political representation in the recent state and union legislative elections.
The 2020 general election resulted in an NLD victory nationwide, but the vote has not allowed for proper Arakanese political representation unless make-up elections in the affected parts of Arakan State are held. Uncertainty, combined with despair when it comes to electoral politics, has amplified conceptions of political suppression of the Arakan population vis-a-vis the ruling, central Myanmar government.
The absence of meaningful political representation unwittingly is likely to boost a new surge in recruitment for the Arakan Army and more intense armed conflict will likely arise unless peace negotiations can bring practical and effective solutions. Otherwise, it will push the state conflict into deteriorating forms, far apart from politically inclusive pathways to a durable peace for all communities in Arakan State. And still standing will be critical impediments to Myanmar's peace process, unless a shared understanding of Arakan's historical grievances and political aspirations from the relevant conflict actors is reached.
About the Author: Tin Aung Ko is an independent observer on Arakan State's politics and conflict, and is the Executive Director (Strategy and Policy) at Scholar Institute.