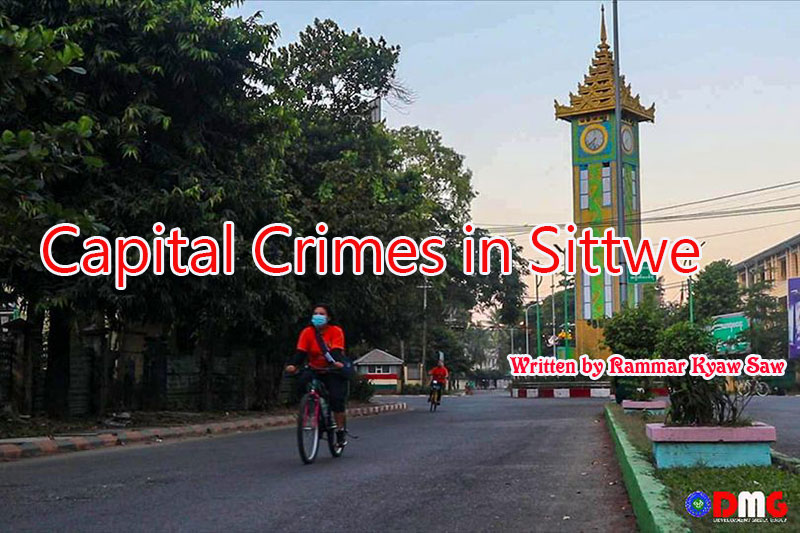 Written by Rammar Kyaw Saw 
Sittwe, the capital of Arakan (Rakhine) State, has the poorest sanitation of any of Myanmar's 14 regions and states. Residents inhale the sour smell of food waste everywhere in Sittwe due to the inability of municipal authorities to properly dispose of waste.  
Water from the creek that flows through the centre of the city is dark and smelly. Sometimes, attempts to breathe in the sea breeze in this coastal state capital are stymied by the smell of feces.
The two-year conflict between the Myanmar military and Arakan Army (AA) brought an influx of internally displaced people (IDPs) from northern Arakan State, while the instability of mainland Myanmar after the military coup also led to an increase in the number of migrant workers relocating to Sittwe. 
Poverty, drug use, and these semi-transient populations have all been cited as contributing to rising crime rates in the Arakan State capital. 
Thefts in Sittwe are frequent, with motorcycles and mobile phones being the most commonly nicked properties. Motorcycle thieves are less likely to steal cheap, Chinese-made motorcycles and more likely to steal high-priced, Thai-made motorcycles. Even motorcycle thieves can be dangerous if they are caught in the act. Some people steal motorcycles by loading them into trucks.
Organised motorcycle theft is said to be perpetrated by gangs with deep-pocketed individuals behind them. Another reason for the increase in motorcycle thefts is illegal pawn shops. Theft could be reduced if local authorities would crack down on illegal motorcycle pawnshops. 
Motorcycle thefts are happening on a daily basis in Sittwe. However, according to the state police, there are only 12 reported cases of stolen motorcycles in Arakan State. If a motorcycle is stolen, why not report it to the police? One reason is that most motorcycles do not have a licence, and there is a weakness in the judiciary.  
I myself once reported a thief to the police station. However, I was quite disappointed by the sub-inspector's words at the police station. If the thief is brought to justice, he or she will be released on parental assurances if he or she is a minor and you want to file a lawsuit. That is exactly what is happening. Courts are releasing motorcycle thieves on parental bail. 
In fact, the perpetrators in more than one case have to be sent to juvenile detention centres, but the lack of such facilities in Arakan State has made young people more likely to commit theft. 
Phone thefts are also taking place, not only in homes but also in monasteries. 
Six mobile phones including one owned by prominent Buddhist monk Mrauk-U Sayadaw were stolen on the morning of December 9. If thieves even dare to steal the belongings of a senior Buddhist monk like Mrauk-U Sayadaw, you can imagine how brave the thieves have become in Sittwe. 
At present, the police and joint teams are inspecting the motorcycle trunks of pedestrians in Sittwe, but only on busy evenings, and patrols are still weak. Police patrols are not interested in thieves and are looking for other good young men to join the Arakan Army (AA). 
A series of thefts and robberies have taken place in the Arakan State capital Sittwe, with residents in some wards feeling compelled to hire nighttime guards to protect their neighbourhoods. The police in charge of security in Sittwe need to take this issue seriously as an operation and take action to address any complaints that may arise. Only then will information be available to the public, in line with the motto "Police and the public identify all incidents."  
A look at a recent White House KTV incident shows that Sittwe is not a stronghold of the Arakan Army, but is active. U Khaing Thukha, a spokesperson for the Arakan Army, told local media that action would be taken if any complaints were made about theft. However, no action has been taken by the Arakan Army so far. It is questionable whether this is due to the fact that the AA's administrative expansion has not yet reached Sittwe, or that there have been no reports of theft. 
The main reason for the increase in crime is the increase in poverty. However, the gangs of thieves in Sittwe are not stealing because they are poor and have no food. 
Therefore, in order for the people of Sittwe to be proud of it being a clean and beautiful city, we urge the people to focus on cracking down on thieves who are gradually becoming more and more like Saw Ya (thief), instead of systematically disposing of garbage in public places. I urge the authorities and dignitaries to work for the common good or for the national cause of Arakanese to save the city of Sittwe.