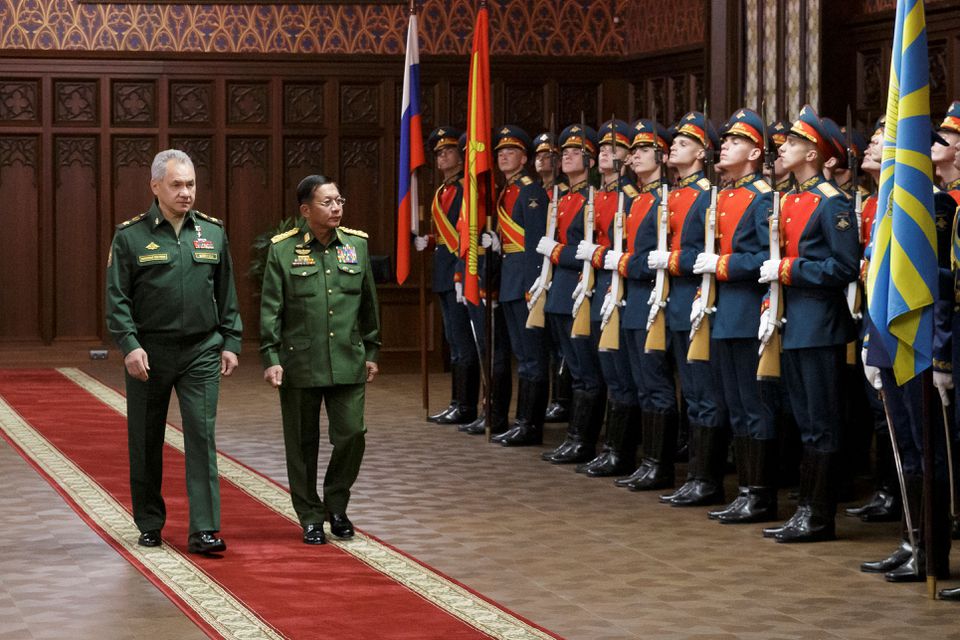 Written by Min Htee  
Independent Myanmar, built and continually refashioned over 70 years, is at one of its lowest points and could become a failed state within the next decade, following the ascension of its latest dictator. In Myanmar, coups have become a tradition, and the military's upper echelon is a privileged class. But instead of building a prosperous nation, authoritarian families have flourished and grown richer over the past several decades, while the people have become poorer. 
The Myanmar military, led by Senior General Min Aung Hlaing, seized power for a third time on February 1, 2021, on the grounds that the 2020 general election was rigged. Min Aung Hlaing formed the State Administration Council (SAC), appointing himself as chairman. No one can say how long the dictatorship will last. Promised elections in 2023 will almost certainly not be credible, if they happen at all.   
The United Nations has condemned the coup in various fora, but Chinese and Russian opposition to more forceful action has left the world body mostly impotent.  
China is one of the world's great powers and is known for its influence over the Myanmar military. China, which has consistently defended the Myanmar military's atrocities, has continued to defend the military since the coup. By the end of 2021, China had not merely maintained relations with the Myanmar military; it had reportedly transferred a "secondhand" submarine to Myanmar.  However, there have been no official statements on whether China has sold or delivered a sub to Myanmar. 
Tatmadaw Commander-in-Chief Senior General Min Aung Hlaing was appointed by Myanmar's ex-dictator Senior General Than Shwe on March 30, 2011, and chose Vietnam for his first overseas visit as commander-in-chief. In the years since, some political analysts have criticised Min Aung Hlaing for showing a desire to forge closer ties with China. 
Russia-Myanmar relations began in 1948, but military cooperation began in the 1990s after the 8888 (August 8, 1988) Uprising. Relations between the two countries strengthened under dictator Than Shwe, and have improved further under Senior General Min Aung Hlaing. The military council has purchased US$17.4 million worth of radar equipment from Russia — arguably the junta's best ally since the coup — and further agreed to acquire long-range ballistic missiles and drones from the former Soviet Empire. 
The military council also imported long-range ballistic missiles from neighbouring India last year. India, which has had a long-standing relationship with the Tatmadaw, also sold a submarine to Myanmar under the Aung San Suu Kyi-led civilian administration, in 2020, giving the military its first submarine. India-Myanmar military relations have not been the best under previous dictators, but there has been a history of joint efforts to defeat armed groups along the India-Myanmar border. 
India was among the countries that attended the junta-sponsored Myanmar Armed Forces Day held on March 27, 2021 — almost two months after the military coup. According to Justice for Myanmar, India has sold weapons to the Myanmar regime post-coup. At the UN General Assembly in June 2021, India remained neutral and abstained on a resolution calling on UN member states to "prevent the flow of arms into Myanmar." 
Senior General Min Aung Hlaing was denied access to the ASEAN Summit last year. ASEAN barred the junta from attending the meeting to show its opposition to the coup. But Cambodian Prime Minister Hun Sen, who took over the rotating chairmanship of ASEAN in 2022, made a trip to Myanmar earlier this month, becoming the first high-level foreign official to visit since the coup. Hun Sen has been in power since 1985, and thus knows a thing or two about clinging to power. 
As long as there are neighbouring nations that ignore the Myanmar people's opposition to authoritarianism and instead associate with the country's dictators, Myanmar's democratisation and development may still be a long way off. Furthermore, other dictatorships in Southeast Asia may be emboldened, and new ones could emerge.  
As long as Myanmar's neighbours continue to legitimise the military junta, the hopes and dreams of democratic forces and federalism advocates are likely to be put on hold.