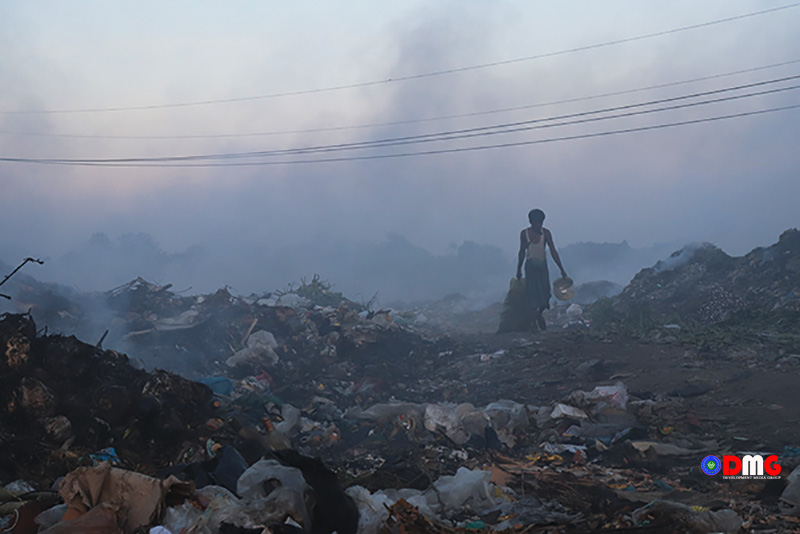 Written by Maung Win Oo
Sittwe is located at the place where the Kissapanadi (Kaladan) River empties into the Bay of Bengal, and is a popular tourist destination. The BXT Company Landfill along Strand Road in the Arakan State capital Sittwe is crowded with pedestrians and cyclists in the evenings and mornings. You can see people feeding the birds on the rocks, and fishing and drinking in groups.
In recent months, garbage has been on my mind. Garbage is regularly dumped into streams passing through the centre of Sittwe. If you look near the bridges, you can see the piles of rubbish, with a faint odour emanating.
Many people do not like the idea of dumping rubbish along the riverbank. However, there are various opinions in Sittwe about dumping garbage in the river. Some have criticised the lack of landfills and the inability of municipal garbage trucks to reach them, pointing to the need for proper disposal systems.
Recently, a video of people scattering rubbish on the sidewalks of U Ottama Park in Sittwe leaked and was shared widely on Facebook. Within hours of the video's release, various criticisms surfaced.
Garbage can still be seen on the sidewalks of the hospital every morning. Similarly, the garbage bins in the new market are always full of trash. Residents near the new market say more bins need to be set up. The municipality is responsible for garbage collection, as many have pointed out.
In previous years, there were garbage bins at every intersection where municipal garbage trucks drive. Residents could dump household waste into their neighbourhood bins at any time, the rubbish being a mixture of perishable food waste, plastics and other disposables.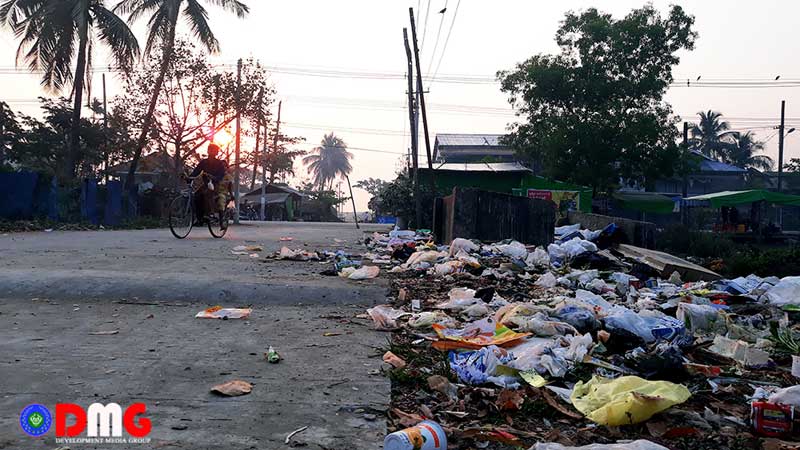 However, garbage was cleared only when garbage was collected, and the rest of the time, the infested aggregations of waste caused passerby to plug their noses. Landlords in the vicinity of these mini garbage dumps complained. 
Systemic Changes 
Beginning in early 2021, the street dumping system in each neighbourhood was abolished and replaced with a new system that is said to have breathed new life into garbage disposal practices. Neighbours have to carefully pack their garbage and wait for the garbage truck to arrive. However, for those who cannot wait for the truck to arrive, it is difficult to find a landfill to dispose of the garbage coming out of the house. As in the past, there is no garbage dump in every neighbourhood, so we have to go and find a garbage dump.
Some residents who did not want to go to the landfill dumped it in creeks, canals and even monasteries. Piles of rubbish are scattered and left unsightly. Some dump their perishable waste near creeks and incinerate non-perishable plastic waste.
Since last June, rubbish from the city has been relocated to Mansi village in Sittwe Township. Residents of a relief camp nearby said they use the method of incinerating the mountain-like rubbish, which caused the lungs to become ill due to the stench.
In this regard, U Than Tun, the minister of Natural Resources in Arakan State, acknowledged that the municipality accepted the city's handling of the garbage problem and said that the municipality was not responsible for the unsightly littering in some parts of Sittwe. However, the municipality is doing its best to collect the garbage and plans are underway to again change the system for waste collection, he said. 
According to a report published by Narinjara News Agency, U Than Tun said that the government was planning to introduce a private garbage collection system in Sittwe with one garbage truck per ward.
A Collective Responsibility
No matter how different the garbage collection system is, it will be better if everyone does their part to solve Sittwe's trash problems. Individuals and families need to work together. Relevant community and civil society organisations must provide education. Actions are also needed if garbage is not disposed of properly. This includes the proper storage of garbage and the provision of adequate trash bins.
We also need to look at how waste disposal systems are managed in other countries. Take Singapore, for example. In Singapore, smokers are even fined for not properly disposing of cigarette butts.
Not only sound education but alertness and dedication, too, are required. If trash bins are not found, garbage will be dumped on the banks of rivers and streams.
In short, it is necessary to have enough rubbish bins in every neighbourhood, and to separate and sort garbage so that it can be more easily disposed of. It is also important to collect garbage regularly; ideally on a daily basis. If there is a problem with municipal garbage collection, it should be systematically handed over to the private sector.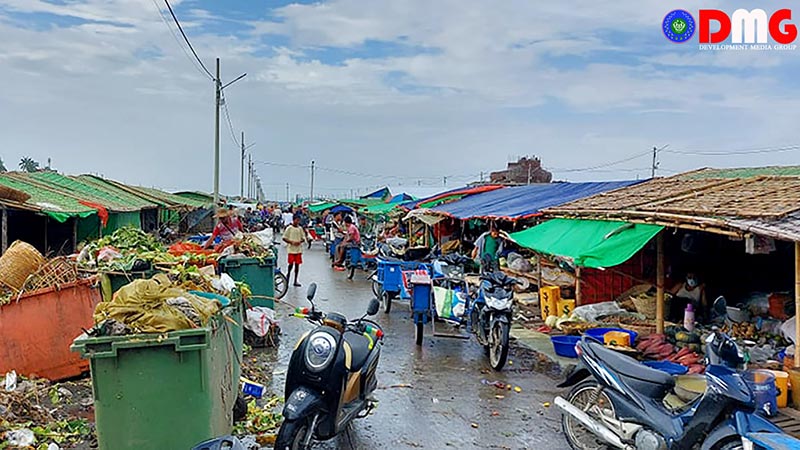 Instead of dumping the waste, we should try to get energy via WTEs (waste-to-energy plants). In Singapore, such a waste-to-energy system was introduced more than 40 years ago.
The problem of proper waste disposal remains a challenge. This problem is not an insurmountable one. It may be possible if the relevant departments, organisations and social groups work together. In other words, we have to take the example of garbage clearing on Sittwe's Shu Khin Thar Road as an example. In the past, rubbish could be seen on sidewalks and under the platform along Shu Khin Thar Road.
Then the "Green Blue" group, a civil society organisation in Sittwe, led a garbage collection campaign by placing rubbish bins under every street lamp along Shu Khin Thar. After the movement, people stopped littering and dumped their rubbish in the nearby bins. As a result, garbage can no longer be seen on this scenic road. 
However, rubbish is still scattered in locations across the Arakan State capital, including on the beach. It is the responsibility of every individual citizen, and every family, to properly dispose of garbage in order to keep their ward and their city clean and tidy.