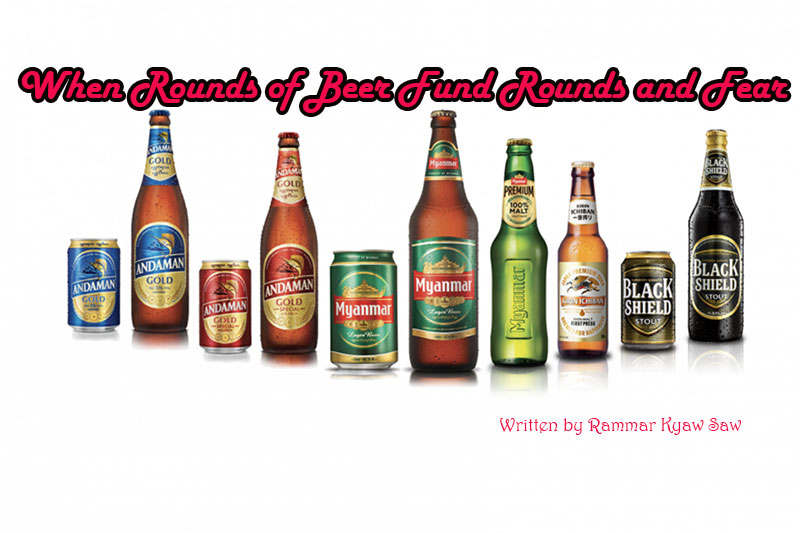 Written by Rammar Kyaw Saw 
Myanmar's military is undoubtedly at or near the top of the table if we are to make a list of nation-state armies globally that run businesses for profit. It controls around 150 businesses ranging from beer and cigarette production to banking and media, many of which are reaping huge profits. 
The military runs breweries and distilleries that produce at least 25 brands of liquor and beer, which are not only sold in the domestic market but are also exported to neighbouring countries. It also engages in jade and gems mining, and is involved in the insurance business, all this giving a sense of the diverse scope of its money-making enterprises. 
Some of the biggest domestic brands of liquor and beer are produced by Myanmar's military, and they were among the most popular brands on the market — until last year's military coup.  
According to the "Do Not Use" campaign, military-owned Myanmar Beer had annual revenue of more than US$110 million in 2020. But Myanmar's beer market share has plummeted since the coup, with revenues for 2021 reaching just US$54 million, down more than half compared with the previous year. Though it is a steep decline in revenue, Myanmar Beer is still profitable.  
Following the Money 
It is true that profits from its businesses, including proceeds from the sale of natural resources and beer alike, have helped the Myanmar military buy ammunition, guns and other military hardware. The military has unquestionably expanded its arsenal with profits from its businesses and revenues from the country's natural resources. It is also undeniable that the military has been using those weapons and ammunition, for decades, against ethnic armed organisations seeking greater autonomy and/or self-determination, and more recently against the People's Defence Force (PDF) groups fighting for the restoration of democracy in Myanmar. 
Companies owned or controlled by the military are one of the main sources of income for Myanmar's junta. Buying their products or services means putting money into the pockets of Myanmar's military. Drinking military-produced liquor and beer amounts to loading their guns, which they use to kill ethnic people and pro-democracy forces.  
In modern history, dozens of countries around the world have witnessed coups. But the extent of post-coup political turmoil in Myanmar is unprecedented in global terms. Food prices have soared by three to four times, and the overall cost of living has gone up significantly in the year-plus since the coup, leading to appalling hardships for low-income families in particular. 
People on the mainland are widely boycotting Myanmar military products in response to the coup. In major cities like Yangon and Mandalay, even large hotels are not selling military-produced beer brands like Myanmar Beer and Andaman Gold.  
But the Arakanese people are not on strike. 
Some drinkers in Arakan State boycotted military-linked liquor and beer during the fighting between Myanmar's military and the Arakan Army from 2018-2020. But the market for military-linked liquor and beer is now growing in Arakan State. While basic food prices have soared, the prices of liquor and beer have only increased slightly, and liquor and beer brands that no longer sell in the mainland are still enjoying popularity in the Arakan State market, partly because of their prices. 
Low-income people cannot afford to drink foreign beers, so they generally drink beer produced by the military and its affiliates.  
A Drinking Problem 
While calls to boycott junta-organised Thingyan festivities in mainland Myanmar appeared to have been largely heeded last month, much water was thrown in Arakan State in tacit approval of military rule. It is time we consider whether we should be loading more bullets into their guns. 
The Arakanese people, who have not been politically favoured by successive rulers, are now being targeted by the military council as a stable and potentially even growing beer market.  
The Burmese are the largest ethnic group in Myanmar, and once the Burmese go on strike, it is not easy for the targeted products to claw their way back into the market.  
And yet, hundreds of millions of kyats in alcohol sales take place every day in Arakan State, much of it spent on military companies' booze. I would like to ask readers to consider whether it is appropriate to continue spending money on liquor and beer if that money goes into the pockets of the Myanmar military. This is not a call for living "dry", but rather to consider other beer and liquor options where revenues do not go toward replenishing ammunition and guns used to kill people. 
Editor's Note: The Burma Campaign UK has released a list of alcoholic beverages produced and sold by the Myanmar military and military-linked companies, which can be found below. 
Andaman Gold Blue

Andaman Gold Special

Black Shield Stout

Dagon Beverages

Dagon Dairy Plant

Dagon Extra Strong Beer

Dagon Fresh Lemon Sparkling
Dagon Fresh Soda

Dagon Gin

Dagon Lager Beer

Dagon Light Lager Beer

Dagon Malta Fresh

Dagon Rum

Dagon Single Malt Lager Beer

Dagon Super Lager Beer

Kirin Ichiban

Mandalay Beer

Mandalay Brewery

Mandalay Spirulina Anti-aging Beer

Mandalay Strong Beer

Mandalay Super Fresh Lager

Myanmar Beer

Myanmar Brewery

Myanmar Premium Beer