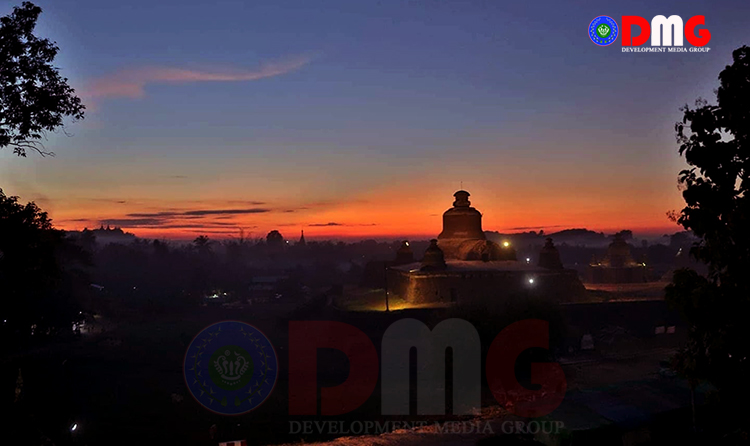 Written by Nay Win San
April 1, DMG

"There's always different sounds of gunfire during a battle," retired lance corporal U Tun Kyaw Sein angrily said about gunfire that occurred in the downtown area of Mrauk-U at around 7 p.m on March 18.
He witnessed Tatmadaw troops from eight trucks enter the ancient city Mrauk-U and shooting weapons shouting "Fire". The retired officer peeked through an opening in his home and witnessed the shooting.

The Tatmadaw started firing in Htanmaritz ward in Mrauk-U and then opened fire in Alaezay and Sin Cha Zate wards.

"They shouted "Fire! Fire!" and shot off several rounds of ammunition. At that time, a man from a vehicle stopped at the junction of the road and yelled at them to stop firing," U Tun Kyaw Sein recalled.

The trucks later went to the No. 337 and 540 Battalions based in Mrauk-U, local residents said.

When locals starting hearing the sound of gunfire, they became nervous, owners of roadside shops tried to close their shops quickly but some shop owners were hit by stray gunfire, according to local people.

"I could close one panel of a door, when I bent down to close the other panel, I could feel a bullet whizz by over my head, fortunately it hit a cabinet in my house. I know I would be shot if I ran. So, I took cover in my house. My wife was slightly injured by gunfire to her throat and thigh," said U Kyaw Naing who is selling betel quid near a branch of a KBZ Bank in Sin Cha Zate ward.

Upon hearing the sound of gunshots, a security staff from the KBZ bank in Mrauk-U checked the situation outside the bank. The military troops attempted to shoot him but hit the bank building instead. There were six bullet holes in the bank's walls.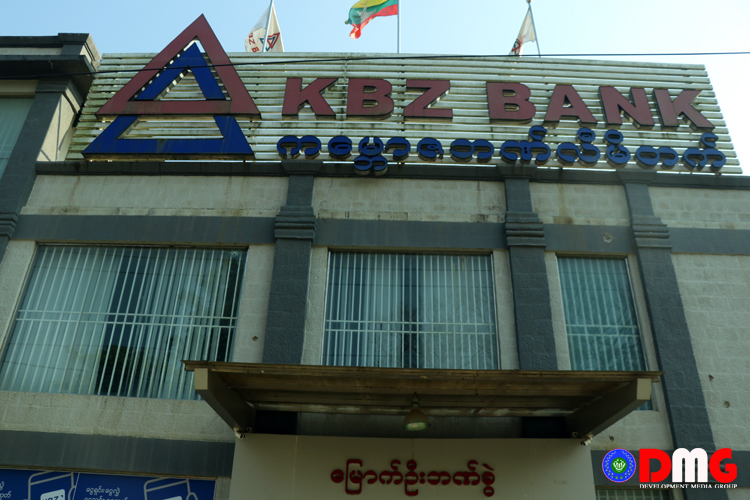 Bullet shells hit one of the Buddha images on Rakhamuni hill in front of the bank and destroyed its nose and left hand.  

It was busy time in the early evening and the area was crowded when gunfire erupted. A house in Ywar Haung Daw village near Mrauk-U was burnt down by an artillery shell, five minutes after the attack in Mrauk-U began.

"The artillery shell landed like a big fire ball. The flames from the artillery explosion scorched my children's skin on their arms and legs. Now their skin is peeling and they can't walk," said U Hla Shwe Maung from Ywar Haung Daw village, whose home was hit by the artillery shell. 

He sent his children to hospital and now they are taking shelter in a war refugee camp in downtown Mrauk-U since they lost their home.

"We can't go home. We have no home to go to. There is no one in our village also. They all fled from their houses. We now wear clothing that's been donated to us. This is our life now. I strongly believe the military did this intentionally," he said because of their current situation they have no way to go back home. 

The Tatmadaw responded in a press conference held on March 25 that they retaliated after the Arakan Army (AA) opened fire from houses, shops and on a hill where pagodas are located.

"Our trucks entered Mrauk-U for security reasons. At that time, we were being shot at from both sides of the road. At the same time, our regional battalion was attacked from a hill and houses," said Brigadier General Zaw Min Tun, spokesperson of the Tatmadaw True News Information Team.

His remark is completely different from what witness and victims in Mrauk-U said.

Only the Tatmadaw were shooting weapons in the ancient city, it was not a battle with the AA, local witnesses said.

"They just blame others because they do not want to take responsibility. They said they were shot from a shop. I sell betel quid, I have betel leaves, nuts and lime.  I do not have guns and can't shoot," said U Kyaw Naing, who is selling betel squid near the branch of the KBZ Bank.

Because religious sites are sacred places, he did not expect such situations in that specific location, U Kyaw Naing said his own opinion.

"In the Tatmadaw's eyes, local people are also members of the AA. They think that all the people in the region are affiliated with the AA in some way. We are just humble civilians; we have no need for guns. Furthermore, this area is a sacred religious site, so we never thought things like this would happen here," he said.

The Tatmadaw will not sit quietly if their camps are under attack, the Tatmadaw will respond accordingly to any attack, said Brigadier General Zaw Min Tun.

"We cannot just sit around and do nothing when our camps are under siege. We have to retaliate. And it was at night, so there might be some damage on roads and residential areas," he said.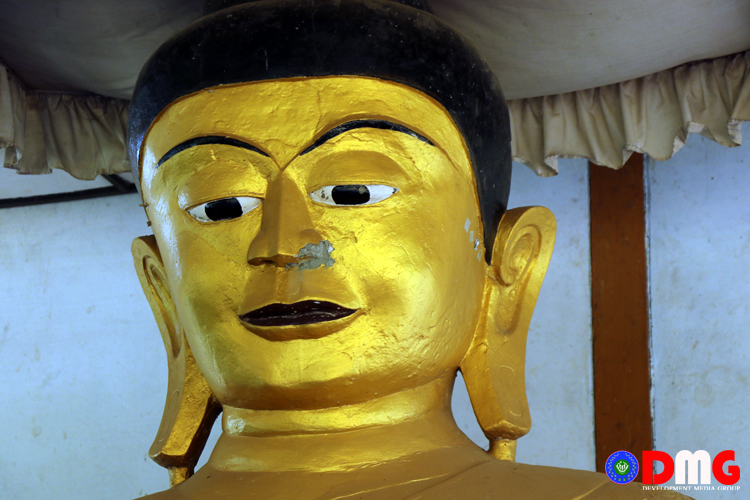 Artillery shells should not land in Mrauk-U which is a historical heritage site, it should be a demilitarized zone, State MP of Mrauk-U Township U Tun Tha Sein said.

"Mrauk-U boasts of being an ancient cultural heritage site, it should not be quiet like a cemetery. I would like to make a request to authorities to prevent Mrauk-U from becoming a desolate heritage site," he said.

Daw Oo Khin Mya, a resident of Sin Cha Zate ward, said that she understands that there is collateral damage when opposing sides clash during an armed conflict. However, a one-sided onslaught of gunfire that's done intentionally and with extreme prejudice is unforgivable.

"We were enjoying a lovely dinner with our children when Tatmadaw troops indiscriminately fired weapons at our home. I am emotionally torn apart because I can't understand why they would open fire on my family without any justification. Furthermore, I have no idea how I can prove to them that my family has no connection to the AA," she said.

After peace talks on March 21, Colonel Kyaw Han from the Arakan Army said they never engaged in any battles in Mrauk-U city. 

"We have declared that we never participated in armed conflicts in Mrauk-U. We asked the Tatmadaw not to continue shooting weapons in residential areas without any provocation," he told media.

Retired lance corporal U Tun Kyaw Sein said there are different sounds of gunshots in a two-sided battle, but in this situation only one sound of gunfire could be heard in the ancient city Mrauk-U.