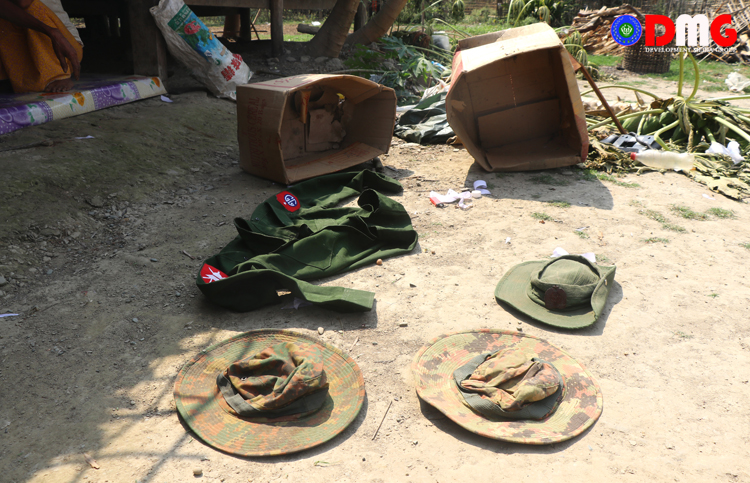 Written by Sein Ko Ko

April 1, DMG

We left Sittwe, the capital of Arakan State, by bus at 11:30 AM on March 18 to go to Buddaw village. When we got into our car in front of Tun's private clinic, there were only four passengers; two women and us, two reporters.

There used to be hundreds of buses from many Townships traveling to Sittwe in the past. People hardly use bus services now because of battles, even merchants go on trips only if it is absolutely necessary, two women and the driver said.

We saw some buses, trucks and passengers traveling along the way from Sittwe to Ponnagyun Township on a regular basis, but we rarely saw them on the way from Ponnagyun to Kyauktaw- Mrauk U.

Police were everywhere along the road from Ponnagyun to Kyauktaw Townships. A Tatmadaw column was heading to the south along the railway between Pan Nilar and Aung Phyu Byin villages. There were a few people along the road and all the shops beside the road were closed.

All shops at Myat Hle bus station were closed as well.

We reached Aung Mingala village, a junction to Buddaw village, at 1:30 PM where every shop was closed and few people were on the road. While we were at Aung Mingala village, we saw a Tatmadaw column with nearly10 trucks that were heading to Kyauktaw. We had to ride motorcycle along a dirt road for 10 minutes to go to Buddaw village, west of Aung Mingala village. 

Buddaw village is located near mountain ranges and is in a remote area. There are 97 households and about 400 residents that reside there, villagers said. There is a Basic Education High School.   The whole village is quiet and some elderly villagers are living in the hamlet.

The village administrator was not in the village when we arrived. His phone was seized by a military troop, villagers said.  A nine-day clash between the Tatmadaw and Arakan Army (AA) occurred near the village since early May, they said.

There were air strikes by two helicopters and mortar fire on the first day of the battle. Villagers went out and looked at the helicopters. But, air strikes by fighter jets forced many villagers to flee from their homes.

Local residents said military troops entered into the village on March 16 and forced villagers to go outside the village. Then they inspected villagers' houses one by one, and mined lost property of villagers.

"They destroyed all our personal belongings. They took two bags of bras that were ordered by our customers from town and destroyed one of the bags," said Daw Wai Wai Hlaing.  

Daw Wai Wai Hlaing is selling clothes and making brassieres. Their house lost one solar panel, five sewing machines, 2000 items related to making brassieres, two boxes full of assorted goods, two batteries, 50 baskets of rice and one golden bracelet. Other villagers lost their personal belongings too.

Soldiers destroyed papaya plants in the compound of Daw Wai Wai Hlaing's house.

Two old men in their 60s remained in the village to tend to their cows, soldiers summoned the elderly men and physically beat them that day.

"When I went out from my house to release my cows, they brought me to their captain. They shoved me down on the ground with both hands tied behind my back. Then they kicked me two times, once on my shoulder and another time on my face. They told me I was a spy for the AA," U Kyar Tun Sein said.

They raided the village and inspected homes after the battle broke out near the village. They inspected every house and took everything and they also killed three pigs and ate them, villagers said.

Villagers didn't know which battalion entered into their village, but later they said that it was No.55 Battalion because of a uniform left at Daw Win Win Hlaing's house. 

The village experienced consequences of war during the time of the Communist Party in Burma and villagers were forced to relocate. They had also been detained and used as force labour. Since they are living as war victims, they want peace, U Aung Kyaw Zaw said.

"This is not the first time. We had to face similar situations in the past. We were beaten many times. We had to flee from our village. We have fallen victims to battles of different sides. So, we want peace through bilateral dialogues," he said.

Clashes erupted near villages, including Buddaw village where villagers were forced to flee to safety.

During battles between the Tatmadaw and AA, many villages were inspected.  Soldiers raided houses in Thameehla village in Rathedaung Township and took money and gold in February, villagers said.

The Tatmadaw denied the villagers' accusations and said all of their actions were carried out for security reasons.

Two days after the Tatmadaw's inspection in Buddaw village, members of a Tatmadaw troop came and summoned all villagers at the village school and told them not to be afraid and to remain in the village, U Aung Kyaw Zaw said.

"They came yesterday and told us they won't bother us and won't take our belongings. They are from the Battalion in Taunggup and they will set up a position in the village. They also promise not to launch any mortar fire around our place of residence," he said.

Villagers were questioned and they said that a troop of Tatmadaw searched houses and took their personnel belongings. Daw Wai Wai Hlaing suffered the greatest loss of personal property; she runs a shop and makes clothes. All the commodities and supplies kept for selling during the Water Festival were taken.

Daw Wai Wai Hlaing wanted to get back her personnel belongings.

"I want all my belongings back. I didn't cause any trouble," she said.

We left Buddaw village around 3 PM. All villages along Yangon-Sittwe road are quiet. All roadside shops are also closed.

Even bus stations like Myat Hle and Wah Taung that were crowded before battles broke out are now closed. We, the only two passengers, came back to Sittwe from Aung Mingala village by a Hijet.

We saw soldiers stationed at the school in Pan Nilar village.

When we passed Aung Phyu Byin village we saw 11 military trucks full of well-armed soldiers that were heading to Kyauktaw. So, we pulled over and let them go by, then we continued on our own journey.