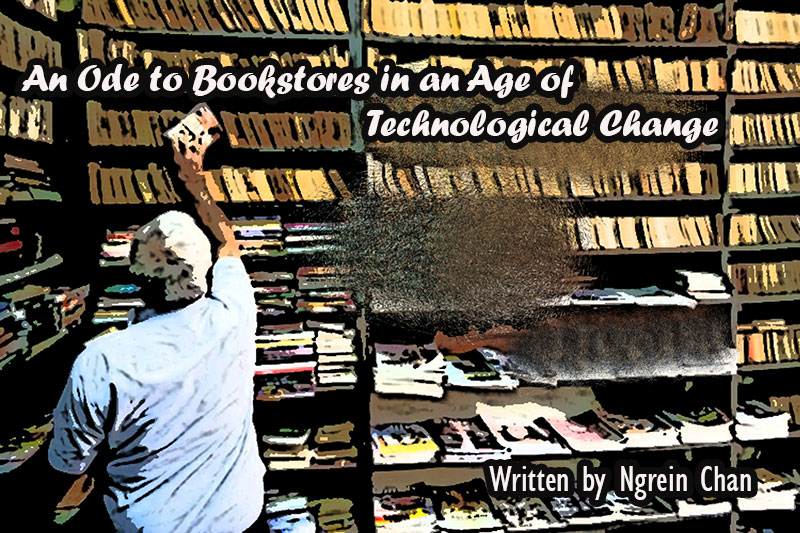 Written by Ngrein Chan 
Looking back on the 1990s and 2000s, bookstores are one of the fondest memories of my childhood. I miss the feeling of competing with others to get my hands on a book, every time a new one by my favorite author arrived; I miss reading it; and memorising my favourite words by writing them down in notebooks. 
I miss cutting out pictures of actresses in magazines and sticking them on the walls of our rooms; bookstore owners coming to our houses, asking for books because they were not paid for theirs; and being fascinated by the smell of new books; these are unforgettable memories of my childhood.  
The Persian author Omar Khayyam says that having a glass of wine, a piece of bread, a book and a shady tree is like going to heaven. We had no wine, so reading a good book while drinking Chinese tea with jaggery was the closest to nirvana that I was able to taste. 
When we were young, the daily rent for a book from a bookstore was almost half of the daily allowance given by my parents. The rent for old comic books was K100, the new ones were K200, and novels were K200 too. The most expensive were the Thuta Sweson Magazine and other modern magazines. When I first started reading, I only borrowed comic books. A voracious reader, I was able to breeze through four or five comic books a day. 
During the summer holidays, I would ask my mother for money to borrow books, but the family would not let me read books during school hours. Our culture seems to see formal education as more important than literature. However, I could not get rid of my hobby, so I had to steal half of the money given by my parents to buy snacks to cover the cost of the book so that the family would not know. 
Reading books and bragging about the books that you have secretly read among your friends is a feeling like conquering the world. 
As a kid, I used to think of libraries as storehouses of knowledge. This view has not changed. Libraries are still a strange place for young people. Libraries will still be far from most young people's minds unless many libraries offer something that appeals to young people as a recreation area. Libraries should provide a service to young people on the library side so that young people can have fun and learn. 
When I read Surveillance Hnin Maung novels, I wanted to be a detective. When I read Myaing Razar Tuppi cartoons, I wanted to be a hunter, hunting animals on the Pegu Range. When we were young, we used to read books and have vague thoughts. Books bring you into contact with the world, and books make hearts more beautiful. 
When I first started borrowing books from bookstores, I wondered if I would ever run out of books. Later, when I had read almost all the books in the regular bookstore, I moved to another bookstore. When I borrowed a book from another bookstore, I did not dare go past the usual bookstore. I thought I might well die of a heart attack if I went face-to-face with the owner of a bookstore where I used to borrow while in possession of another store's books. 
The book addiction that I had as a child still haunts me. There are always two or three books in my bag on any given trip. When I go out without a book, I always feel like I'm missing something. 
Reading books is honestly a significant part of my life, a belief that has not changed from my youth until now. 
But the culture of bookstores is fading in the age of technological change. Is the rapid growth of technologies such as TV, the internet and smartphones a major factor in the decline of bookstores?
One of the reasons for the decline in bookstore culture is the inability to add up-to-date books and to offer better services to young people. 
I think bookstores should try to adapt to the current system with the help of technology, seeing it as a compliment rather than a competitor of bookstore culture. 
I am writing with the aim of inspiring other means of encouraging young people to read and gain knowledge through libraries and bookstores, even though it may seem impossible for modern book purveyors to re-establish a foothold in young people's hearts and minds in the face of technological and societal change.