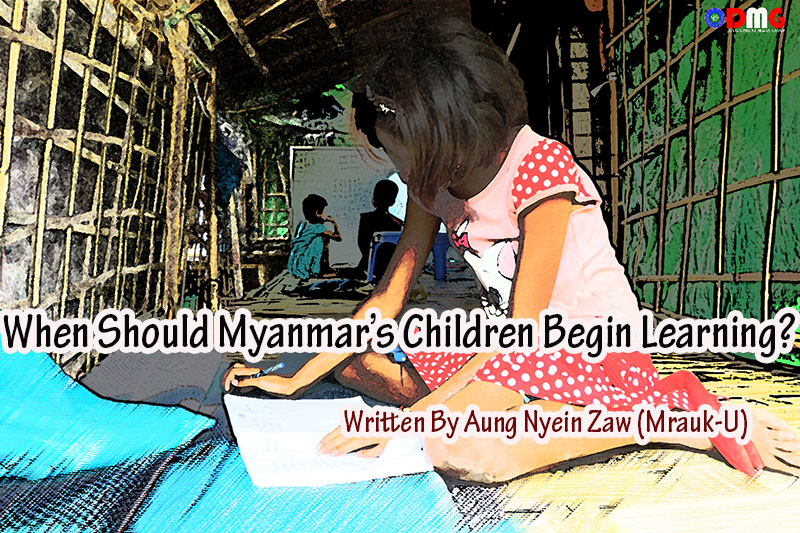 Written By Aung Nyein Zaw (Mrauk-U)


Everyone now accepts that this is the age of knowledge. International education processes are evolving so fast that even in developed countries, education reforms are ongoing. The current education system is considered to be unable to adequately meet the demands of the knowledge age. 
"Education is the engine of development," said Nelson Mandela, South Africa's first African president. Other politicians and sociologists have interpreted the importance of education in various ways. As a result, more and more countries are investing in education for human resource development. Traditionally, most countries have only three types of schools: public, private and parochial. 
These schools are the main drivers of basic education. Basic education is traditionally divided into primary, secondary, and higher education. According to the current KG+12 educational system in Myanmar, there are six years of primary school, including KG (kindergarten), four years of middle school and three years of high school. 
A glimpse into Myanmar education 
In Myanmar's current education system, teachers in basic education are classified as primary, middle and high school teachers, and there are corresponding differences in salary rates. Thus, it is not uncommon for most teachers to focus on promotion from primary school to middle school to high school, believing that higher salaries and higher prestige accompany those changes. 
The need for primary school teachers is also high due to school upgrades without a clear policy. As a result, there is a shortage of skilled teachers in primary education. What hurts even more is the loss of good teachers in primary education who understand child psychology. The Ministry of Education is also short of well-trained and invested primary school teachers. The National Education Strategic Plan 2016-2021 includes teacher recruitment and salary adjustments, but has not yet been implemented due to public health concerns pertaining to the Covid-19 pandemic, and political instability. 
Pre-primary education 
Under Myanmar's education system, children over the age of 5 must attend KG (kindergarten) classes first. There is a pre-primary education system for primary school children internationally, including Myanmar. In some countries where education is emphasised, primary education is considered compulsory. In Myanmar, however, education is not compulsory. Pre-primary education is about cultivating the physical, mental and emotional development of children between the ages of 3 and 5, and developing positive habits. The main purpose of ECCD (Early Childhood Care and Development) is to teach the five developmental areas. 
The five areas of development are (1) physical development, (2) cognitive development, (3) ethical development, (4) social development, and (5) emotional development. Pre-schools are not under the Ministry of Education, but rather are under the Ministry of Social Welfare, Relief and Resettlement. 
The origin of pre-primary education 
The concept of pre-primary school education dates back to the 15th century. Martin Luther (1483–1546) put forward the idea that education should be taught from an early age because of the small number of literate people at the time. The first kindergarten was founded in 1840 by German educational researcher Friedrich Froebel (1782–1852) in Brandenburg, Germany. Friedrich Froebel is considered the inventor of the concept of learning by playing, which still holds a place in education circles to this day. Due to the many benefits of education, pre-primary education has been widely emphasised internationally. Today, pre-primary education is shaped by the ideas of John Dewey, Maria Montessori, Erik Erikson, Jean Piaget, Lev Vygotsky, and many others.
"Research has shown that early childhood support and developmental support for early childhood [from birth to 8 years] provides lifelong benefits for children with developmental delays," states Myanmar's Policy for Early Childhood Care and Development (ECCD). 
Pre-primary education in Arakan State 
As mentioned above, pre-primary education has long been widespread internationally, as it has been of great benefit to children throughout their lifelong learning and social life processes. According to the Myanmar Demographic Health Survey (MDHS 2015-2016), only 23% of the more than 8 million pre-school children in Myanmar have access to pre-primary education. Myanmar's Policy for Early Childhood Care and Development (ECCD) calls for the use of 12% of the Ministry of Education budget after 2020 toward this stage of development. There are only about 1,000 pre-schools nationwide with qualified teachers under the Ministry of Social Welfare, Relief and Resettlement. 
Some basic education schools under the Ministry of Education have kindergartens. Of two high schools, two high schools (branch) and 20 post-primary schools in downtown Mrauk-U, only a post-primary school in Taung Yat ward has a kindergarten. 
In Myanmar's education system, there is a shortage of experienced teachers in government primary schools who can teach kindergarten effectively due to policy mistakes. As a result, in most primary schools, only the principals are responsible for teaching the lower grades. 
Anyone who values the role of primary education understands the importance of lower primary education. There is a difference between primary education, secondary education, and high school education, so you can only succeed if you specialise in teaching at the relevant level.
Of Myanmar's 14 states and regions, only private kindergartens accredited by the Ministry of Social Welfare, Relief and Resettlement are thriving in economically developed states and regions. Arakan State has the lowest pre-school enrollment rate of 3-year-olds among the 14 states and regions. Pre-school enrollment rates in Arakan State's neighbouring Chin State are not the highest, but they are almost the same as in Yangon Region. The reason is that Christian primary schools in Chin State are thriving. 
Establishing a private pre-school requires an ECCD certification from the Ministry of Social Welfare, Relief and Resettlement, with a minimum of an academic degree. In recent years, Yangon University of Education, one of the main universities for teacher training, has launched a Diploma in Early Childhood Care and Development. Physically, for every 20 students, there is a need for adequate classroom space, toys, teaching aids, and a healthy environment. 
Parents in Arakan State are often poor and have little interest in their children's education, and the parents themselves have a low level of education. As a result, pre-primary education is low. Some urban parents who are interested in education in the cities have to enroll their children in programmes such as tutoring, as there are no well-established pre-schools. Private tutoring boarding schools are under threat from the exam system and focus on higher education, which can show success within a year, with little incentive to develop pre-primary education. 
Government-recognised private kindergartens such as Winner International Preschool, Shwe Pyo Khin and NELC (Sittwe) have sprung up in the Arakan State capital Sittwe. However, there is still a great need for pre-schools across Arakan State. 
While pre-schools run by well-trained and competent teachers are beneficial to children, the opposite type of school may actually be harmful, causing unwanted developmental processes. In Myanmar, the qualifications for a preschool teacher are measured by the ECCD Diploma or Certificate. However, with a bachelor's degree, you are not really qualified. Effective pre-school education can only be achieved if the concept of pre-school education is balanced with child psychology and teachers' teaching skills. 
Even in kindergarten classes, which are open to students after the age of five, literacy is not taught immediately, but is taught step by step at a set time. Most non-accredited tuition schools in Arakan State, which teach children around the age of 4, are strongly encouraged to read and write. Parents are also very proud of their children's ability to read and write letters before they reach adulthood. 
Learning to read and write before reaching adulthood can affect children's later life development. Since children are just children, they should spend more time playing. In kindergartens, children are systematically taught using ECCD methods. Therefore, in today's highly competitive world, parents are encouraged to think carefully about their 3-year-old children. We want our children to be able to decide when and where to start writing.