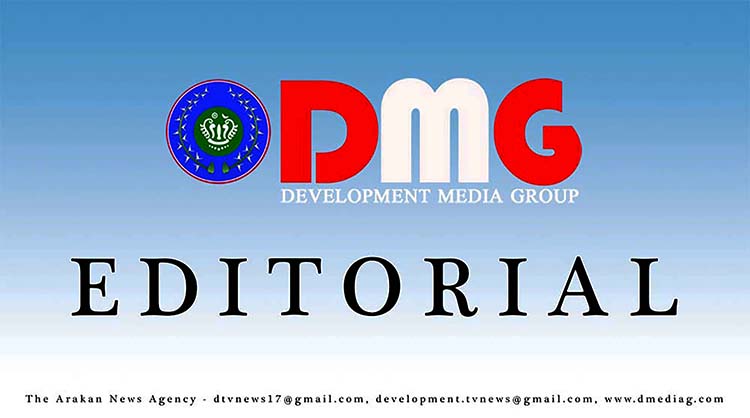 Editorial, DMG
Seasoned journalists who work in mass media clearly understand their tasks. The work entails acquiring information and documenting and verifying that information so the information is factual and true. That information is either published for the print media or it's disseminated by radio and TV mediums or through digital services online. Experienced reporters also must maintain their journalistic ethics and report news that is exceedingly well balanced and one-hundred percent objective for the purpose of passing the correct and accurate information to the general public so they can stay properly informed about daily events that occur and shape their lives.

We cannot say that unconditional freedom in the media can be appreciated in Myanmar since the colonial period. After Myanmar gained independence in 1948, freedom in the media was nonexistent under a military dictatorship regardless of internal problems and ethnic armed groups' affairs.

However, after multi-party general election results appeared along with the 2008 constitution, local media hoped for freedom of expression. During Myanmar's transition to democratic rule, media ethics as well as laws and bylaws for people who work in Myanmar's media sector were stipulated.

Under the current civilian government headed by Daw Aung San Suu Kyi, journalists hoped that they could see further liberalization for the freedom of expression. Sadly, their expectations are different from the lugubrious reality that has taken hold in the nation.

According to a statement from the Athan, Freedom of Expression Activist Organization, there have been 31 cases filed against journalists since April 23 in 2019, under the NLD-led government and 47 journalists have been facing trials.

Regarding the ongoing armed conflict in Arakan State, some officials from news agencies such as Irrawaddy, RFA and Development Media Group (DMG) have been charged.

Most of the cases charged against journalists are not congruent with existing media rules and regulations, especially archaic laws and some are not consistent with international human rights declarations and democratic standards.

Although people have demanded to annul such laws, even the civilian government that gives priority to democracy and human rights did not annul such antiquated laws. Sadly, it is still espousing these laws to charge journalists and send them to jail.

As long as the NLD government, which came to power because of people's support, fail to remove some outdated laws, Myanmar's rocky road to democracy will have a difficult time coming to fruition.

If the government keeps moving forward without changing its mentality on the media and journalists, which is also called the fourth pillar, freedom of expression will not be so free.

If the people's government does not change its disposition regarding the checks and balances of the four main pillars, the fourth pillar's freedom of expression will eventually evaporate. That will result in people's ears, eyes and mouths becoming sealed up, in other words it will deny a person's humanness and diminish their dignity.

If the current government wants to present a better picture of Myanmar to the eyes of the western world, they must step up their game and annul all legal actions against news services and journalists. In addition, the government should revise the current laws related to the media and draft new rules and regulations that meet with international ethics and standards in all areas of mass media. There is no alternative, should they fail to do this the country will only regress into a state of social paralysis.

People in western countries take ideas like freedom of expression and speech for granted because most of these people have lived with these ideas all their life. Whereas people from more draconian countries see the concept of free expression and speech as something they must strive towards so their voices can be heard as the "powers that be" make every effort to choke their voices, by any means necessary. The bottom line is this; freedom of expression and speech is a human birthright, not a gift. So maybe the question that should be asked is this: what is government afraid of?