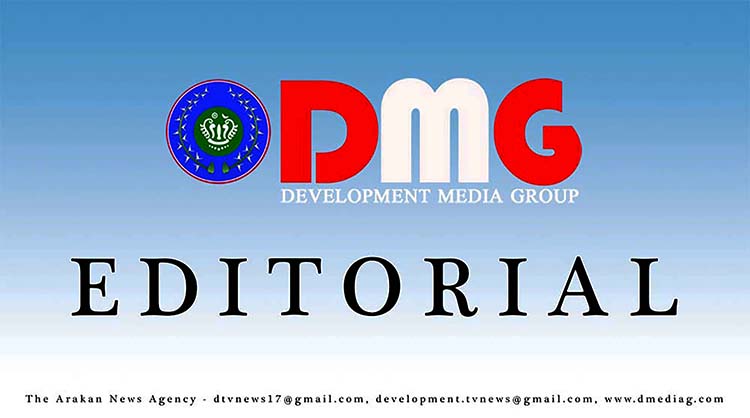 The hot season has arrived with cuckoos signing sweet melodies. Ceylon ironwood, padauk and golden shower trees are in full bloom as Myanmar is celebrating the New Year. It is the tradition of the Buddhists to wash away their sins of the previous year and welcome the New Year merrily and refresh themselves.
The spring this year is not a pleasant one, unlike the previous years in Myanmar. Hundreds of people have been killed and injured in violence after the military took power in a coup. Thousands of people have been detained and charged for sedition and incitement under the Penal Code. And the military regime has also revoked the licences of some media outlets.
We, Development Media Group (DMG), stand by the oppressed people and share the grief of the families of those who have lost their lives. Numerous similar incidents have taken place over the past few years in Arakan State. We therefore would like to reiterate that we fully understand how the people feel and we deeply sympathise with them. 
There were countless cases of arrests and killings in the fighting between Myanmar's military and the Arakan Army that broke out in late 2018. Over 200,000 Arakanese people were forced from their homes to displacement camps and up until now, they are faced with serious difficulties in making a living with very limited access to health and education.
As the fighting has ceased in Arakan State since November last year, some displaced people have returned home, but many returnees are facing hardship due to limited job opportunities. Many have lost lives or limbs due to landmines or other unexploded ordnance explosions near their villages. 
Fresh clashes broke out between Myanmar's military and ethnic armed groups in other ethnic areas after the military coup. Many people have been affected by the fighting, especially in Kachin and Karen states, with reported civilian casualties. We totally oppose the use of violence in handling Myanmar's political turmoil, and we urge the concerned authorities to exercise restraint so as to prevent similar incidents in the future.
We always stand on our media platform to speak out for the rights of oppressed people and restoration of democracy. Revoking the licenses of media companies, and arresting and prosecuting journalists who are covering the situation on the ground, greatly hampers democratisation and contributes to human rights violations. We condemn those restrictions and any act of a similar nature.
We hope our ethnic brethren residing in Myanmar can go through the New Year occasion peacefully. We also hope for an immediate end to various forms of violence happening in the country, and we are committed to stand by the people in overcoming all the difficulties, and do our reporting job in line with journalistic ethics for restoration of democracy. We wish you a healthy and happy Myanmar traditional New Year.