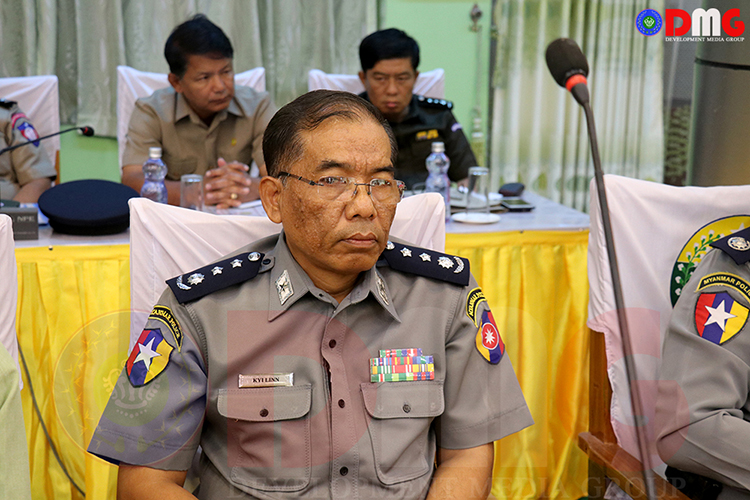 The Arakan Army attacked a police outpost in Yoe Ta Yoke village in Ponnagyun Township on March 9 and killed police.  The DMG's reporter Khaing Roe La conducted an interview with Colonel Kyi Lin, head of Rakhine State Police Force, about the situation of closing security outposts in some villages in order to merge with other police stations and the warning of the AA against police force.
What do you think about the attack on Yoe Ta Yoke outpost?
Currently, I can't appraise the situation. Police are working for the rule of law, not waging a war. So, they can be attacked easily. Since they attack police outposts in force, they might not want the rule of law or they don't want the police who are working for the rule of law in the region. This may be their line of reasoning. Currently, I don't want to give any comment about it.
How will you provide for families of slain police?   
We have to take full responsibility for the families according to our protocol.  The police force has a responsibility to take care of families of fallen police. We will help them in the future if their request is in line with our procedures.  
Currently, they are provided financial aid from headquarter and regional police. But it is a negligible amount if we compare it with their loss. Now the children are fatherless, the wives are bereft of their husbands. Their loss is too big to compensate for the death of their loved ones.
What I want to say is that they are my family and I will help them as much as I can when they need help. The police were killed while they were serving their country. That's why I am profoundly proud of them.
I've heard that some security outposts in some townships were closed. Could you tell me about it?
These outposts are located in remote areas, far from transportation access. At the moment, police in these outposts lack security.
Our duty is to maintain the rule of law. Police arrest offenders and bring them to court. The court makes the decisions. 
Regarding the attack on the Yoe Ta Yoke police outpost, people can be uncooperative with police due to pervasive fear. The police are working for the security of people. People should take more responsibility regarding these cases.
So, we need to take care of the security of police. That's why we decided to merge the police force by closing outposts in remote areas. There are five to ten police in one outpost. So, we reassign them to other outposts to strengthen the force.
Could you tell me, in general, in which township did you merge police outposts?
Currently, we closed police outposts that are far from police stations in Ponnagyun, Kyauktaw, Mrauk-U, Myebon and Minpya Townships. It is just reinforcing police stations in each precinct by sending police from security outposts located in remote areas to other stations.
We've heard that some police stations in Buthidaung and Rathedaung Townships have been aggregated.  Could you give me any comment about it?
The security outposts were established in remote areas to prevent attacks from different groups of people with different agendas. The situation has now changed. We need to strengthen our force. So, we combined some police stations and security outposts. We will deploy officers further afield when these areas are safe.
These security outposts were established according to the directives of the top seniors of the police force. We temporarily closed them at the moment. We will reposition police in these outposts when there is stability.
How do you execute the rule of law and criminal cases in these regions after the police outposts are temporarily closed?
We assume, as you all thought, that if people give us information or they need us, our security outposts will not be attacked. We temporarily closed the outposts.
Was the attack that occurred at an outpost on a road section between Pan Nilar and Kyan Khin due to weak security? What do you want to say about it?
Well, all local people know the real situation. They know what is happening there.
Is there any plan to provide "cutting edge" weapons and other supplies for police so they can fend off similar attacks ?
Yes, we have plans. The duty of all police is to maintain the rule of law. We do not aim to crack down on insurgents. We go after thieves, drug smugglers and people who conduct other illegal activities.  Our mission is to protect and serve the people. So, we will use weapons suitable to our tasks.
It is not apt to employ heavy weapons indiscriminately. However, we have the capacity to use up to date munitions if a particular situation calls for them.  
It is the duty of the Tatmadaw to crack down on insurgents. We are working for peace and stability in the region, the rule of law, and to support anti-narcotic drug programs and public support activities.
But, at the moment, we have to make security priority number one. So, our policing has been focused on security. In some instances, if we have to conduct nocturnal patrols or make investigations in the evening, we will take extra precautions to ensure the safety of locals and police officials in these specific situations.
The AA has recently posted a warning letter for police online. They said that police were conducting some activities collaborating with the Tatmadaw troops without proper police protocol. So, the AA sent a message to police about this situation. What do you want to say about that particular incident?
I have no comment on it. The police are doing their work as best as possible. They are doing their work according to our code of behavior as I said before. But, for some cases, we have to detain people for questioning when necessary. If we found insufficient evidence to charge a person, we will release them.
Similarly, if someone provides a tip or files a report, we will hold that person for questioning for the peace and stability of the region. If we found the accusation is erroneous, we will release that person. We cannot be guided by our emotions or instincts. If police officers work this way they will be dismissed.
What do you want to add for the interview?
We want Rakhine State to be peaceful and stable. The state boasts of ancient pagodas, beautiful rivers and beaches. It is a lovely tourist destination. There have been no visitors in Mrauk-U recently. I deeply regret that. When a region grossly lacks peace and stability, people have to flee from their homes. My heart breaks over this kind of situation.
We are working to uphold the rule of law. Our activities are in no way, shape or form involved in politics. So, we'd like to ask people to work with us while we are working in line with the laws. When a court decides an accused person is not guilty, we cannot arrest him or her regardless of alleged charges against them.
If a person is wrongly arrested, anyone can contact to me. I will help them. I do not accept unlawful actions.
And, if police insult or bully a person or a group of people, civilians can come to me to file any complaints I will take action against any police officer that violates the moral conduct of police department.