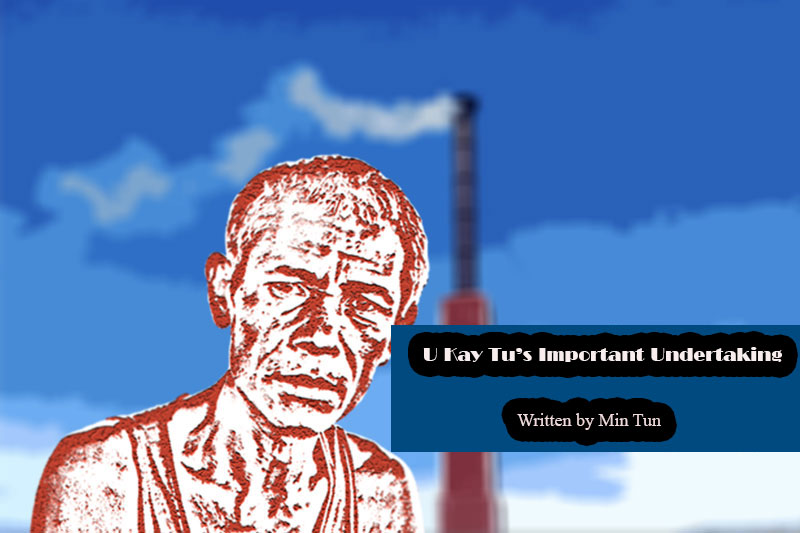 Written by Min Tun

The four undertakers waited until the chanting of sutras for the deceased was finished, after a casket containing the body was carried from a hearse to the cemetery rest house. There, family members and other mourners saw the deceased for the last time, weeping over the death of their loved one.
In time, the four undertakers put the casket on a trolley and wheeled it to the crematorium. Not long after, smoke could be seen rising from the crematorium chimney.
Among the undertakers, a bare-chested older man's grey hair distinguishes him as senior among them. He is U Han Maung aka U Kay Tu.
The 58-year-old lives near Ar Kyeik Taw Kone Cemetery in Sittwe, together with five family members. It has been 29 years that he has worked as an undertaker to earn a living for his family.
Some people find his work unsavoury — disgusting, even — and look down on him, said U Kay Tu, while others praise him for a difficult job well done.
U Kay Tu assumes that being criticised in this life is karmic retribution for criticising others in his previous life.
And now? "I live as if I'm deaf when I hear criticism, and blind when I see critics," he said.
U Kay Tu said that because youths were more interested in helping to provide funeral services and working as volunteers these days, stigmatisation of undertakers had decreased.
Now, more people understand that making the necessary arrangements for a person's last journey is a virtuous job, he explained.
U Kay Tu started working as an undertaker when he was 29 years old. As there were no crematoriums at the cemetery in Sittwe at that time, they had to bury the deceased or cremate them on an exposed wooden funeral pyre.
U Kay Tu was introduced to undertaking when his brother-in-law, also an undertaker, asked him whether he wanted the job, at a time when he was struggling to support his family.
"At first, I felt doubtful about whether to do this job, but I decided to do it. I thought, I am not afraid, as all human beings are mortal," U Kay Tu said.
Yet when he started working as undertaker, he admits that sometimes fear did get the best of him.
"Sometimes, because I had to dig in places where dead bodies were already buried, I saw corpses while digging new holes. I was frightened when I saw corpses that had not decomposed yet," U Kay Tu recalled of his earliest work experiences, managing to smile in retrospect.
He admits to sometimes vomiting when he saw decomposing corpses in those early days. He managed to overcome that visceral fear though, considering that he too will be a corpse one day. He said it took about a month to overcome these difficulties.
There are four undertakers including U Kay Tu, who has the most work experience among them, at the Ar Kyeik Taw Kone Cemetery. In addition to handling cremations, they are also responsible for cleaning the cemetery's rest house.
"Now, we don't need to dig [large] holes anymore, as the crematorium is used for adult corpses. We have to dig 18-inch holes only, for the burial of babies," he said.
U Kay Tu struggles to earn enough to support his family, even though he has been working for nearly 30 years as an undertaker.
It costs K40,000 to cremate a corpse at the Ar Kyeik Taw Kone Cemetery. The four undertakers divide their net income of K15,000 equally (after subtracting a crematorium fuel expense of K25,000 per body).
Despite the difficulties, U Kay Tu does not despair about his job.
"I assume that as an undertaker, I'm doing virtuous work in this life as I did virtuous work in my previous life," U Kay Tu explained.
He said he saves some money and offers food to the monasteries once every three months or five months.
Meanwhile, the number of Covid-19 deaths continues to rise due to the virus's spread in Arakan State, with 3,939 confirmed cases and 381 deaths as of August 26. Sittwe has seen the highest number of Covid-19 fatalities, with 95 to date.
The Ar Kyeik Taw Kone Cemetery undertakers have been especially busy with cremations amid the third wave of Covid-19, given that family and other loved ones are less likely to take a hands-on approach to funeral matters because risk of contagion is involved.
"We're doing this for social and religious purposes. We don't worry about being infected with Covid-19 and dying because we've donated our lives and labour," said U Kay Tu.
As the saying goes, "Good spirits help those who are conscientious and upright," he notes.
U Kay Tu, who became an undertaker due to his family's livelihood needs, has decided to do this job till the roles are reversed, and it is he who is being helped along on his final journey.
"I'll do this job until I die. Even if I were rich, I'd do [the job of undertaker] until my last breath," he said.
Behind him, smoke rose from the crematorium chimney.