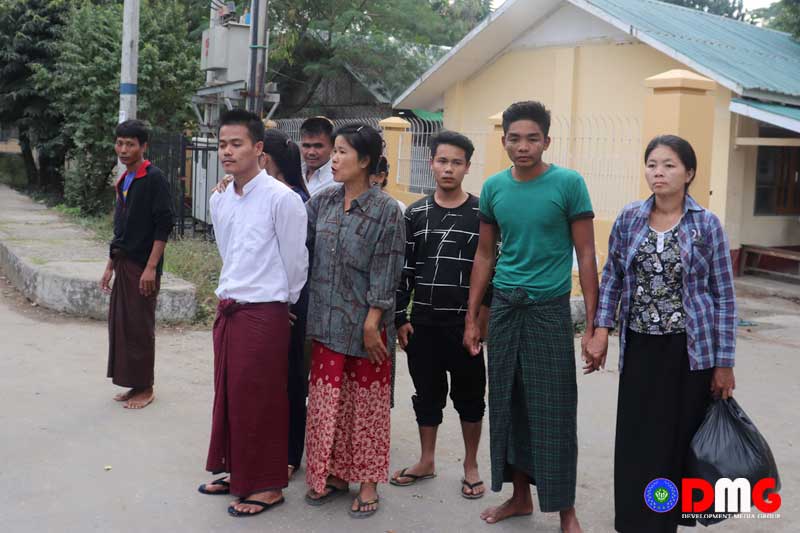 Aung Htein | DMG
3 January, Sittwe

A district court in Sittwe has discharged four detained residents of Mrauk-U and Minbya townships in Arakan State who had faced charges under the Counter-Terrorism Law, said U Hla Aung Thein, an advocate of the accused.

The four residents — identified as Ko Kyaw Aye Maung and Ko Oo Khin Maung from Myo Chaung village in Mrauk-U Township, and Ko Maung Myint Hlaing and Ko Soe Win Naing from Pan Myaung village in Minbya Township — were arrested by a Tatmadaw column on suspicion of having links to the Arakan Army (AA) on March 19, 2019.

Ko Soe Win Naing had been charged under sections 50(a) and 54 of the Counter-Terrorism Law while the remaining were sued under sections 50(a) and 52(a) of the Counter-Terrorism Law by Captain Htein Lin Maw from the Tatmadaw's Minbya-based No. 380 Light Infantry Battalion. They were discharged after being held in detention for nearly 10 months.

"According to the prosecution witness's testimony, the accused were found not guilty. So they [the accused] have been freed by the court under the Criminal Procedure Code 253," the advocate explained.

Daw Tin Tin Win, the mother of Ko Soe Win Naing, said she borrowed money from some people from a relief camp in Minbya Township in order to ask permission to see her detained son in Sittwe Prison.

"They were wrongfully arrested. We don't have any ties to the Arakan Army. We are ordinary people and we have never seen the Arakan Army. I feel happy and sad at the same time for those who were released from prison," she added.

As of late November 2019, more than 500 people in Arakan State had been detained by the Tatmadaw on suspicion of having ties to the Arakan Army amid ongoing clashes between the Tatmadaw and the ethnic armed group, according to Thazin Legal Aid.