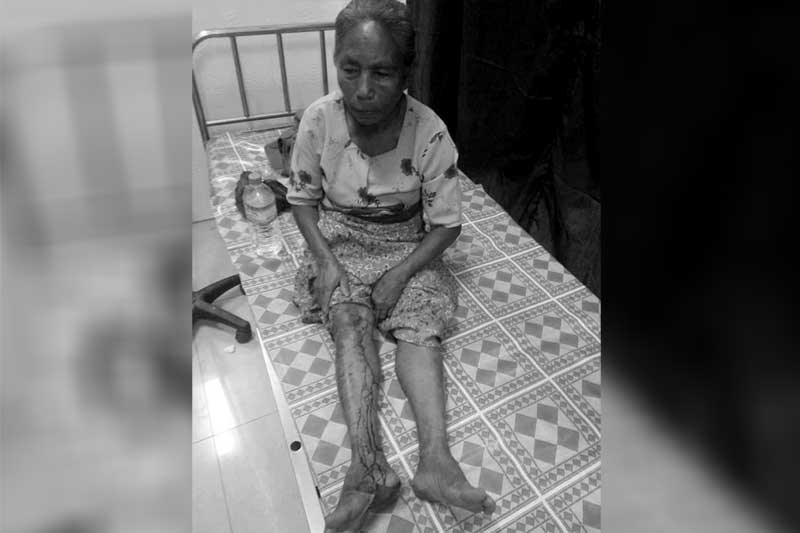 Khaing Roe La | DMG
12 January, Kyauktaw

A blast in Arakan State's Kyauktaw Township on January 11 injured a woman and two children, according to the victims' families.

The explosion occurred at the compound of a house in Yote Thar village, Kyauktaw Township, while a resident was burning waste discarded by a Tatmadaw unit temporarily stationed there since last month, said U Maung Htwee Aung, father of the injured children.

Daw Aung Ma Oo, 65, and Mg Kyaw Thu Soe, 10, sustained leg injuries while Mg Aung Myat Thu, 9, was hurt in his left ear and thigh.

"We swept up all waste in the compound and burned it. An explosive device was burned and exploded. We do not know if it was a bomb or a shell," he told DMG.

A spokesperson for the Tatmadaw's Western Command, Colonel Win Zaw Oo, said ammunition was never left behind at locations were its military units were deployed.

"Some villagers have complained that the AA [Arakan Army] laid landmines in the village," he said.

DMG contacted Arakan Army spokesperson Khaing Thukha to seek his response to the Tatmadaw official's comments, and he said the explosive device that rocked Yote Thar village was not their responsibility.

"The explosion occurred in a house compound at Yote Thar village where a Burma Army contingent was stationed. They always lay landmines for their security, wherever they are stationed. They then left without taking them. That's why people face landmine explosions very often," Khaing Thukha said.

Pyithu Hluttaw lawmaker U Oo Tun Win said, "People are not safe in their houses now. I think landmines and other ammunition should not be left in public areas."

Over the past year, more than 100 civilians were killed and about 300 were injured by stray gunfire, landmines and as victims of crossfire as the Tatmadaw and Arakan Army have clashed across several townships in Arakan State.