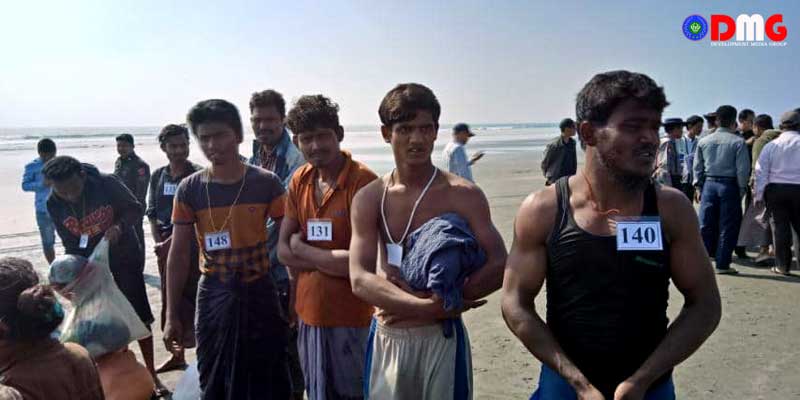 News Team | DMG
January 13, Sittwe
 
A total of 172 Muslims detained in waters off Kawthaung town in Tanintharyi Region were brought back to Arakan State by helicopter on the afternoon of January 13.
 
A resident of Thae Chaung village in Sittwe Township, Arakan State, told DMG that 17 members of the group were sent to Thae Chaung. He said he believed that the remaining people were sent to Maungdaw and Buthidaung townships.
 
"We heard that some are from Bangladesh, and also from Maungdaw and Buthidaung. Only 17 people are from our place [Sittwe]. We heard that the remaining people will be sent back by ship," he said.
 
Another Thae Chaung resident, Ko Yar Sait, said immigration officers from the Ministry of Labour, Immigration and Population issued National Verification Cards to the 17 Muslims from Thae Chaung village.
 
DMG contacted police officers who were dispatched to Thae Chaung village for the intake, but they declined to comment. U Win Myint, a state government spokesperson, did not respond to requests for comment.
 
The Muslims were detained by the Myanmar navy while attempting to travel to Malaysia from St. Martin's Island a.k.a. Ohn Kyun Nayarpara refugee camp. A state-run newspaper published a report in December stating that the group included 82 men, 68 women, 13 boys and nine girls.
 
On November 30, more than 90 Muslims detained in Dawei District, southeastern Myanmar, were brought back to Sittwe town.
 
Muslims living in Arakan State often attempt to leave the region for better prospects in other countries or elsewhere in Myanmar.