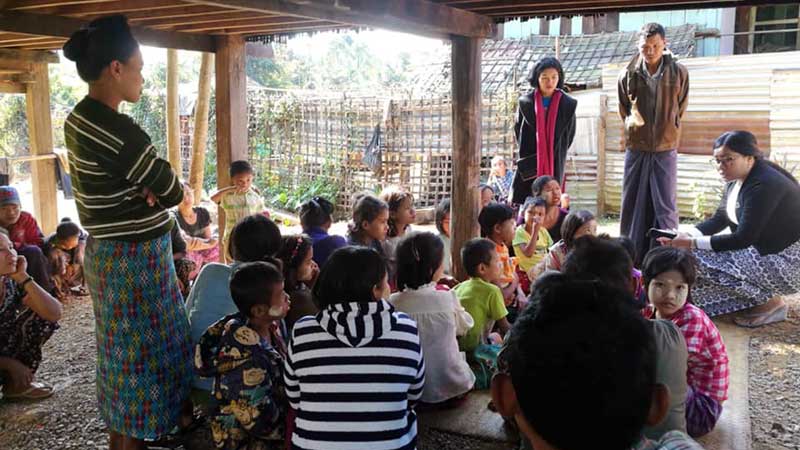 Kyaw Thu Htay | DMG
15 January, Ann
 
Refugees who recently arrived at Ann town in Arakan State have had difficulty finding shelter and are in need of government assistance, according to Amyotha Hluttaw lawmaker Daw Htoot May.

More than 300 villagers from Dar Lat Chaung and Ka Zu Kaing villages have sought refuge in the town of Ann due to clashes between the Tatmadaw and the Arakan Army, but no temporary camp for them has yet been established.

"As the government has not built a temporary camp, refugees are living deficiently. It can be said that they are living in desperate conditions," said Daw Htoot May, who has visited Ann to observe conditions for the refugees there.

"They have to sleep on the ground. In my view, the government should provide assistance for them but they are getting no assistance from the government."

The internally displaced persons (IDPs) have been grouped at a vacant lot in Ann town and were provided some food, said a member of the Chin Literature and Cultural Affairs Association, which is assisting the IDPs.

"We made tents with things we have. We used tarps for roofs but we don't have enough groundsheets," said Ko Nay Lin from the association.

Aid volunteers said the health of the elderly and children among the IDPs is a worry due to the lack of provisions. Livelihoods are also a concern.   

"We earned our living by gathering firewood and finding bamboo shoots in the forest before, but now we can't, so we have no income," said a refugee woman who fled from Ywar How village and arrived at Ann town. "We have difficulties with food, clothing and shelter."

The number of IDPs across Arakan State has topped 100,000 due to fighting between the Tatmadaw and the Arakan Army. The displaced have faced difficulties accessing basic necessities such as food, shelter and healthcare.