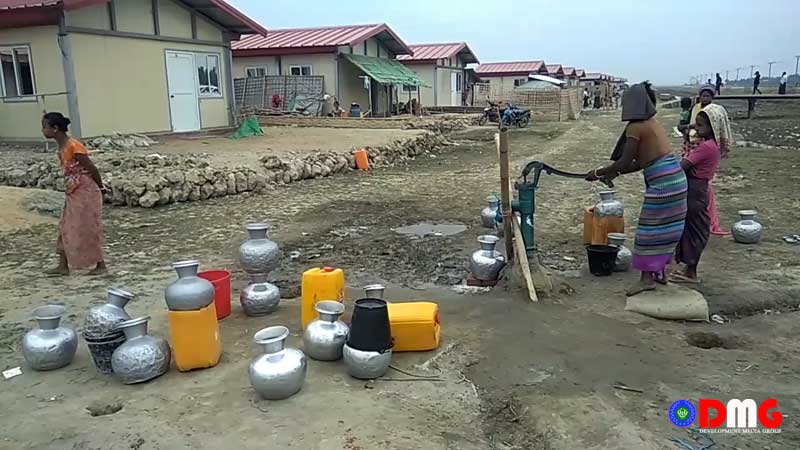 Wun Tha | DMG
February 1, Maungdaw
 
A new village of resettled Hindus near Aungbala village in Maungdaw Township is grappling with water scarcity, according to locals.

Ma Nilarpala, one of its female Hindu residents, told DMG the village is home to more than 1,000 people across 148 households. A single well in the village is insufficient to meet the residents' needs, she said.

"Because it is an artesian well, we need to spend an hour collecting a pot of water. If we sink wells on our own, they can pour out only salty water. Currently, we go to a neighbouring Rakhine village to take drinking water, but we spend an hour going to such a village."

Residents of the new Hindu settlement were formerly living in a handful of villages in Maungdaw Township, until attacks by the Arakan Rohingya Salvation Army (ARSA) in 2017 and a subsequent military crackdown upended their lives and hundreds of thousands of others' in the region.

The Indian government supplied prefabricated houses at the resettlement site facing water scarcity, which is not the only problem its Hindu residents complain of.

U Maung Hla, a Hindu village elder, said: "We moved here from an urban relief camp more than four months ago. We have no conveniences. Road facilities are not good. We don't have sufficient drinking water. We face problems related to basic needs."

He added that villagers anticipated "many plights in the coming summer."

Plans are underway to sink two more tube-wells in the village, and tenders have been invited to do so, said U Soe Aung, deputy commissioner of the Maungdaw District General Administration Department.