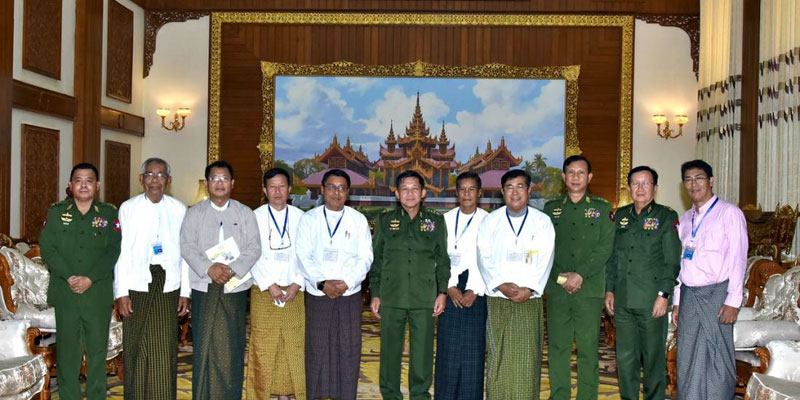 Khaing Roe La | DMG
14 February, Nay Pyi Taw

Myanmar's military chief Senior General Min Aung Hlaing held talks about the latest developments in conflict-torn Arakan State with Sittwe town elders, according to U Than Shwe, one of the discussion's attendees.
The meeting between the commander-in-chief and elders of the Arakan State capital took place at the Bayintnaung Villa in Nay Pyi Taw on February 13.
"We discussed some school children being injured by an artillery shelling in Buthidaung Township, Arakan State, expressing sympathy for the injured kids," U Than Shwe told DMG. "We also discussed that escalating fighting between the Tatmadaw and Arakan Army caused many civilian casualties and wounded many innocent children."
At least 21 children were hurt when a school in Khami Chaung village of Arakan State's Buthidaung Township was hit by an artillery shell on February 13.
Topics discussed during the talks with Min Aung Hlaing were the Sasana Beikman (religious building) in Sittwe built with donations from the Tatmadaw and well-wishers, progress in placing the bronze statue of World Buddhist Missionary Sayadaw U Candramani, and donations of other religious buildings, according to some meeting participants.

In addition, the two sides focused on the need for peace and stability to ensure health, education, economic and social development in Arakan State.
"Concerning social development, we pointed out the need for establishment of factories and workshops in Arakan State," U Than Shwe said.
Present at the meeting with the Senior General were Lt-Gen Aye Win and senior military officers of the Office of Commander-in-Chief (Army), as well as the Minister for Arakan Ethnic Affairs of Yangon Region U Zaw Aye Maung and Sittwe town elders U Shwe Maung, U Than Shwe, U Shwe Kyaw Tha, U Tha Noe Aung, U Myint Kyaw and U Sein Tha Oo.