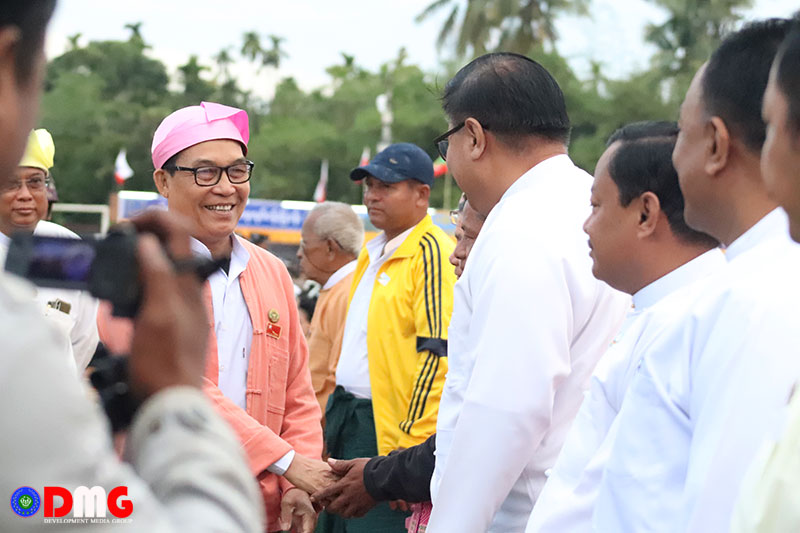 Win Nyunt | DMG
February 20, Sittwe
 
Arakan Army spokesperson Khaing Thukha told DMG that its forces were responsible for small arms fire that was trained on a Tatmadaw helicopter carrying Arakan State Chief Minister U Nyi Pu and Union Minister Dr. Win Myat Aye earlier this week.

While the ministers were flying to Buthidaung from Sittwe as part of a delegation visiting IDPs and injured students there on February 19, their helicopter was attacked near Ohe Phauk village in Rathedaung Township.

Khaing Thukha said AA troops did not target the chopper for the fact that it was carrying the high-level government delegation, and rather shot at it because it was a military aircraft.

"Our soldiers have been shot at from helicopters nearly every day. That's why they shot at the helicopter. It isn't because the ministers were in the helicopter," he said, adding that no civilians, regardless of their affiliation, should use military helicopters for transport in times of conflict.

An anonymous Tatmadaw officer said the helicopter was struck by a bullet and sustained minor damage to one of its onboard systems, but none of the passengers was injured.

During the visit to Buthidaung, the ministers met students from Khami Chaung village who were injured by a stray artillery shell that hit the school on February 13, providing them monetary assistance, as well as distributing food supplies to IDPs staying at monasteries in Buthidaung town.

Fighting between the Tatmadaw and the AA has plagued Arakan State for more than a year, with the Tatmadaw sometimes using helicopters and fighter jets to attack AA soldiers.

The conflict has displaced more than 100,000 people, who face difficulties meeting basic needs such as food, clothing, shelter, healthcare and education.