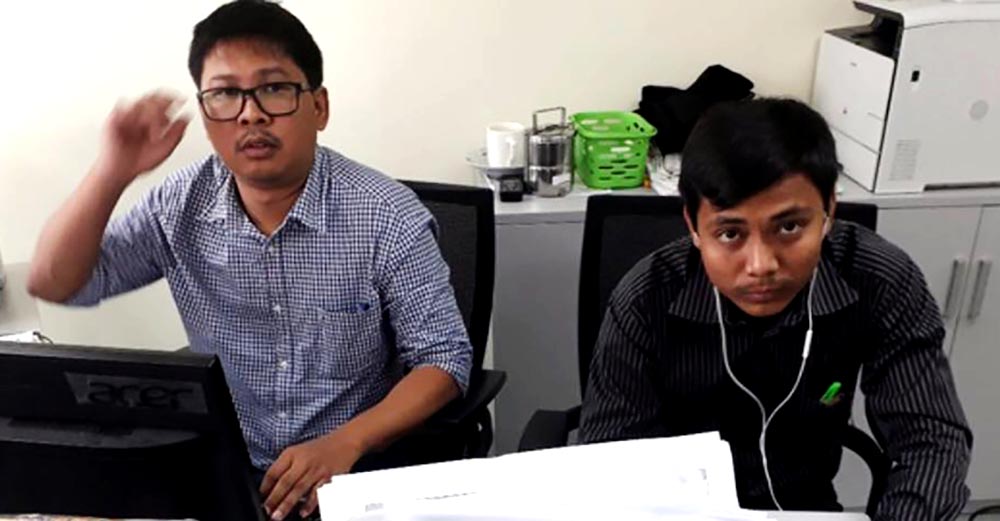 Reuters journalist Kyaw Soe Oo and Wa Lone
YANGON :  Ko Kyaw Soe Oo, arrested under the State Official Secrets Acts, has told the media at his 3rd appearance in the court, that the testimony provided by the police is all perjury.
"The testimony police gave was all perjury. They came to arrest me in no uniforms and no police car. Now, they gave a false statement", said Ko Kyaw Soe Oo.
Ko Kyaw Soe Oo and Ko Wa Lone, the reporters working for Reuters who have been arrested without bail, under the State Official Secrets Acts, were appearing in the court of Northern Yangon district and the date of trial was set again, on the 6th February.
U Than Zaw Aung, the attorney for the Reuter reporters said, "they all just claimed that those are secret documents. But, how about other different aspects? All these are related to people's rights to know, either from the media viewpoint, or from the aspect of access to information. A secret also changes depending on the situation. The question is if it is something to keep as a secret or is it what people need or should know."
Ko Kyaw Soe Oo and Ko Wa Lone were detained at Htauk Kyant Police station on 12th December, 2017 according to the report of the Maungdaw Border Guard Police Force.
Those documents were received from the police officers, Captain Moe Yan Naing and Lance Corporal Khin Maung Linn from the Security Police Force of Mingaladon Township, Yangon, who are also known to be taking action in accordance with  existing laws.