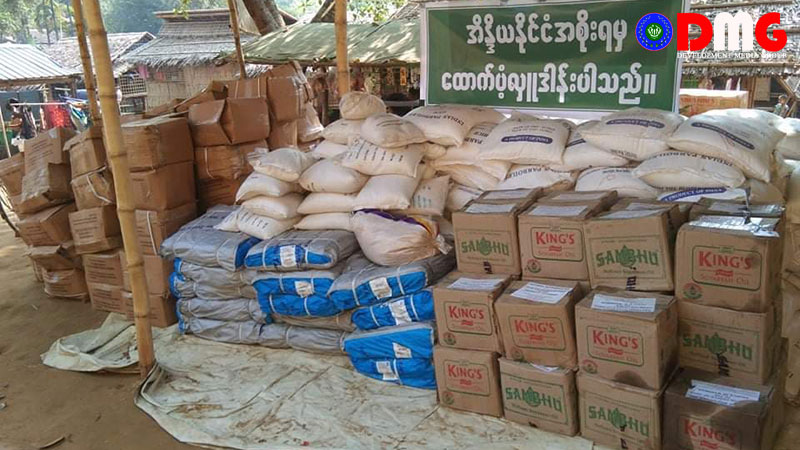 Wuntha (Maungdaw) | DMG
7 March, Buthidaung
Food and non-food items donated by the Indian government for people internally displaced (IDPs) by conflict in Arakan State are being distributed in Buthidaung town this month.
More than 11,000 refugees taking shelter at 22 IDP camps in Buthidaung town were provided the relief aid supplies beginning on March 5, said Buthidaung Township administrator U Shwe Hla Aung.
"Only two places have yet to be provided the relief aid supplies now," U Shwe Hla Aung said.
IDPs were provided 32 tins of rice per person and a packing kit including eight items for household use, a liter of cooking oil and a sheet of tarpaulin.
While these aid supplies are being provided to IDPs, the Ministry of Social Welfare, Relief and Resettlement's daily provision of two tins of rice per person has been suspended for two weeks, according to the IDP camps.
The abbot of the Yan Aung Myay Monastery, which is serving as one of Buthidaung town's IDP "camps," said the ministry's aid provisioning should not be suspended. Sayardaw Ariyar Wuntha noted that IDPs always need food.
The Indian government has provided rice and other foodstuffs worth more than US$235,000 for IDPs in Arakan State.
The number of IDPs in Arakan State after more than a year of armed conflict between the Tatmadaw and Arakan Army has reached about 130,000, with many of the displaced taking refuge at monasteries or makeshift camps where tarpaulin tents are the predominating form of shelter. Provision of basic necessities such as food, clothing and healthcare remains inadequate for tens of thousands of those displaced.