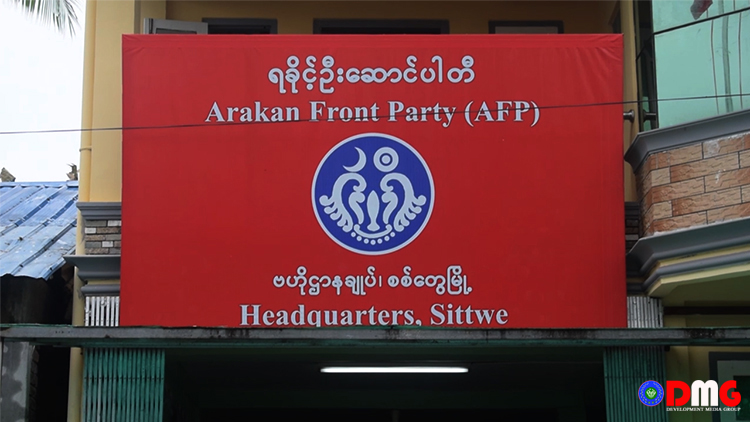 Khaing Roe La | DMG
9 March, Sittwe
The Arakan League for Democracy (ALD) has postponed a planned meet up of Arakanese political parties, which had been slated for March 8, after the Arakan Front Party (AFP) was a no-show on the weekend.

Both the AFP and the Arakan National Party were invited to attend the event to be held in Yangon, but only ANP representatives arrived on Sunday.
"We agreed to meet one day [in future] when all Arakan political parties can attend," said U Kyaw Myint, chair of the ALD. A date for the rescheduled meeting has not yet been set. 
The meeting was arranged to discuss how the political parties could work together to address some of the issues currently facing Arakan State, U Kyaw Myint said. 
U Kyaw Lwin, vice chair of the AFP, said his party did not attend the dialogue because they were invited by the ALD, not by a third party.
"I think a third party should invite all political parties to talk about political affairs. As it stands, the event is headed by the ALD. That's why we decided we should not attend the event," U Kyaw Lwin said.
The ANP won a majority of votes in Arakan State during Myanmar's 2015 election general. It was formed in 2014 by a merger of the ALD and the Rakhine Nationalities Development Party.
But after some top former ALD leaders were removed in intra-party feuding after the election, the ALD was re-established in 2017.
Similarly, some who were removed or defected from the ANP formed the AFP, including former ANP chairman Dr. Aye Maung. His son, Arakan State Hluttaw lawmaker U Tin Maung Win, is leading the party together with a cadre of Dr. Aye Maung's supporters as the elder statesman of Arakan State politics serves out a lengthy prison term.

It remains unclear whether voting in this year's general election will be given the OK to proceed in some parts of Arakan State due to ongoing conflict between the Tatmadaw and the Arakan Army (AA).