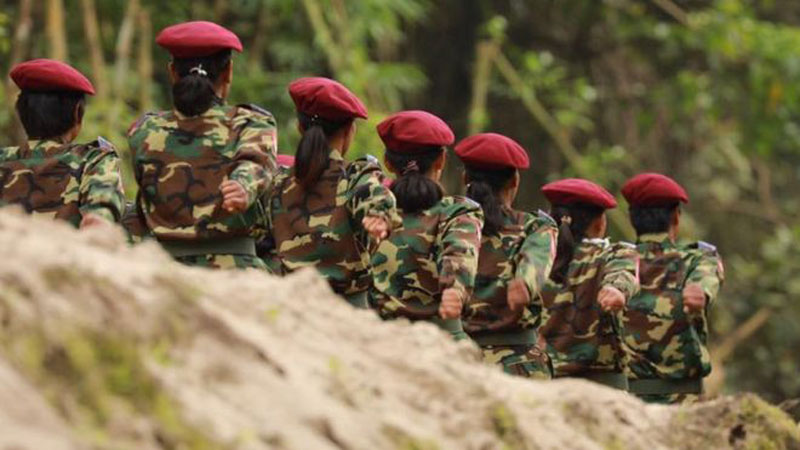 Myat Swe / DMG
11 March, Sittwe

The Arakan Army has taken captive as many as 30 military personnel including a commanding officer, captains and soldiers of other ranks, the AA said in a statement.
The AA attacked the Phayargyi, Bago Region-based No. 7 Light Infantry Battalion near Meechaung Bridge in Chin State's Paletwa Township on March 10, the statement said, describing the battalion as having been dispatched to reinforce Tatmadaw troops fighting with the AA in the region. Twenty Tatmadaw soldiers were detained in the fighting, according to the AA.
"The military column which was under the LID [Light Infantry Division] 77 was brought by helicopter to reinforce the troops at the Byuhargone near Meechaung Bridge. We crashed them," AA spokesperson Khaing Thukha said.
On March 11, the AA detained another 10 military personnel including two captains from the No. 7 Light Infantry Battalion along with 14 guns and some ammunition, the AA said.
"They are from the battalion we attacked on the night of March 10," Khaing Thukha said.
The Tatmadaw soldiers were detained in line with international rules and regulations covering prisoners of war, he said.
Colonel Win Zaw Oo of the Tatmadaw's Western Command did not respond to DMG attempts to contact him regarding the matter.
The AA has detained Tatmadaw personnel in the past, and has offered at least two times to release them if the Tatmadaw reciprocates by freeing civilians it has detained for alleged ties to the AA, as well as members of the AA in military custody.
The Tatmadaw and government have thus far rejected the offer, and the AA has responded that it would continue to detain military personnel.
Fighting between the Tatmadaw and the AA has affected several Arakan State townships, as well as southern Chin State, in recent months. The fighting near Meechaung Bridge began on February 5, according to the AA and residents.