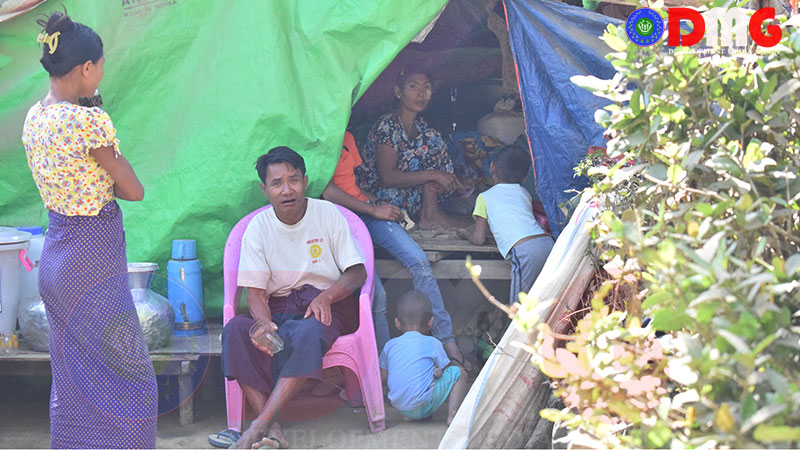 Hnin Nwe | DMG
March 12, Kyauktaw
 
The number of internally displaced people (IDPs) has increased by more than 2,000 in Kyauktaw Township, Arakan State, due to fighting between the Tatmadaw and the Arakan Army (AA), State Hluttaw member U Maung Maung told DMG.
 
Recent clashes near Pyine Taing, Long Shay, Aung Tharyar, Tinma, Mee Latwa and Mont Thanpyin villages have forced many residents to flee their homes.
 
"Houses get burned and people are injured because artillery is being fired all the time. That's why people are worried and leave their houses," U Maung Maung said.
 
He added that some who have fled are staying in IDP camps while others are staying at the homes of relatives or friends.
 
Ni Pukhan IDP camp official U Maung Aye Saw said that more than 300 IDPs had recently arrived at the camp, which was set up in the Kyauktaw Myo Thit ward, where they are facing shortages of basic necessities.
 
"We are facing difficulties in everything from food and clothing to shelter and toilets. People had to run for their lives when their houses were torched. They are in urgent need of basic necessities, and we also have to think of long-term food supplies," he said.
 
He added that benefactors in Kyauktaw town were providing food to the IDPs for the moment because neither the government, nor aid groups nor social organizations, had visited the camp.
 
Some 130,000 people in Arakan State have been forced to flee their homes due to conflict between the Tatmadaw and the AA since December 2018, according to the Rakhine Ethnics Congress (REC).