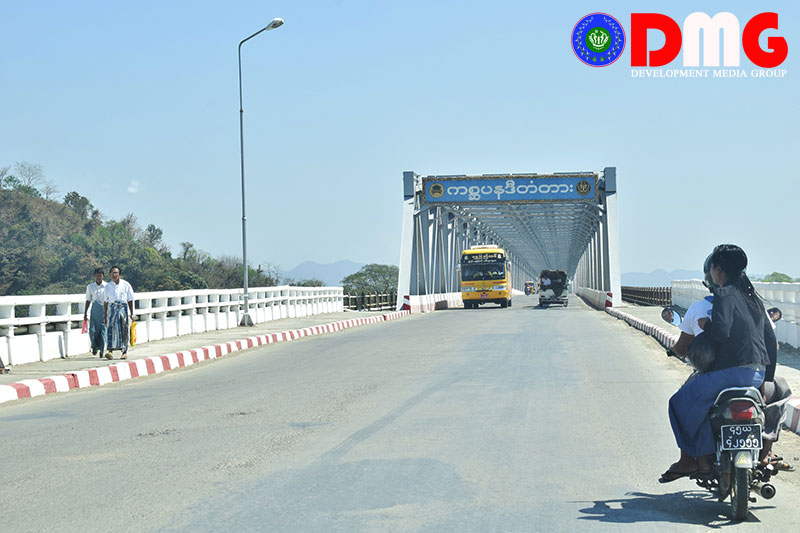 Myo Thiri Kyaw and Kyaw Thu Htay | DMG
27 March, Kyauktaw
 
A police lance-corporal from Myoma Police Station in Kyauktaw Township, Arakan State, was reportedly shot last week and is receiving medical treatment at a military hospital in Sittwe, according to local residents.
 
The officer in mufti, Kyaw Tun Hla, was fired upon near Kisapanadi Bridge in Kyauktaw Township while traveling to Thayet Tapin village, where his family resides, by motorbike at about 5 p.m. on March 26, said U Tha Zan, a resident of the village.
 
"His right elbow was broken and he got his right leg injured. He suffered leg injuries from a motorbike accident," he added.
 
The injured policeman was sent to Kyauktaw Hospital on Thursday evening before eventually being transferred to Sittwe General Hospital for medical treatment, said Ko Khin Maung Soe, a driver.
 
"He, together with his family members, went to Sittwe [General] Hospital this morning. But a policeman conducted a body search on us at Kyauktan Checkpoint. Then I had to drive them to a military hospital in Sittwe," the driver said.
 
DMG contacted the Kyauktaw Myoma Police Station and the spokesperson for the Tatmadaw's Western Command to ask for more information about the shooting incident, but their mobile phones were powered off.