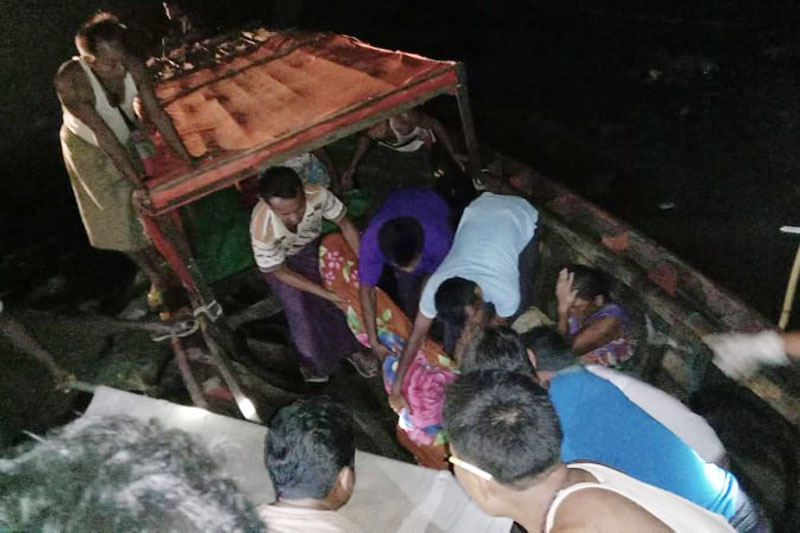 Myo Thiri Kyaw | DMG
April 6, Rathedaung

A 57-year-old man was killed by a landmine on the evening of April 5 in Rathedaung Township, Arakan State, while he was looking for his buffaloes.

U Thein Maung, from Ngasan Baw aka Motesoe Chaung village, stepped on the landmine outside his village while walking along a trail in search of the cattle.

U Thein Tun Phyu, brother of the deceased, said the blast severed U Thein Maung's right leg and hand, and he died of blood loss.

"We brought him to Rathedaung Hospital by boat via the waterway due to a dusk-to-dawn curfew on road travel. But he died at around 8 p.m., before arriving at the hospital," U Thein Tun Phyu said.

Amyotha Hluttaw lawmaker U Khin Maung Latt said clashes between the Tatmadaw and the Arakan Army (AA) were a frequent occurrence along the mountains near where U Thein Maung was killed.

The incident is the latest of several landmine tragedies involving members of rural populations in war-torn parts of Arakan State who have met similar fates after venturing from the relative safety of their villages to take livestock to or from pasture, forage for food or gather firewood.

The Tatmadaw-AA conflict in Arakan State has resulted in hundreds of civilian casualties since fighting first flared in December 2018.