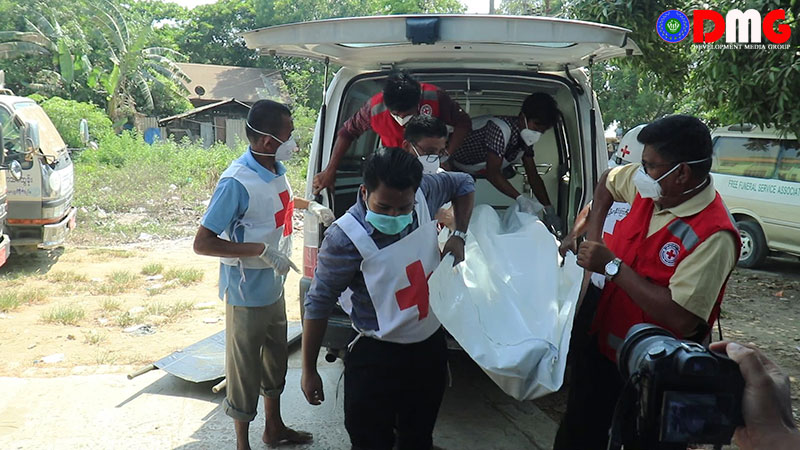 Min Tun | DMG
April 21, Minbya

One health worker was killed and another injured after the World Health Organization (WHO) vehicle they were travelling in was shot at in Arakan State's Minbya Township on Monday evening. The incident took place at one end of the Rar Maung Bridge, close to Rar Maung Zet jetty, at around 5 p.m.

According to state media, the WHO vehicle was transporting nose and mouth swabs from suspected COVID-19 patients to the National Health Laboratory in Yangon for testing when the shooting took place. The samples were being carried by car since flight services in Sittwe have been suspended.

WHO staffer U Pyae Sone Win Maung and a health supervisor, U Aung Myo Oo, were both hit in the attack. U Pyae Sone Win Maung was shot in his left hip and his right arm, succumbing to those wounds while receiving treatment at Minbya Hospital. U Aung Myo Oo sustained injuries to his right hand and has been transferred to Sittwe General Hospital. The body of the deceased has been sent to Sittwe where an autopsy will be performed.

Heavy fighting around Rar Maung Bridge began on the morning of April 20. According to residents of nearby Minbya and Hpar Pyo villages, fighting was taking place while the WHO vehicle was passing through the area.

The United Nations on Tuesday issued a statement expressing condolences to the families of the UN staff members, and said it is conducting an investigation into the incident.

Daw Khin Saw Wai, a lawmaker for Rathedaung Township, said she welcomed the UN probe, adding that media restrictions in the region should be lifted in order to determine what actually happened.

"The same is true of preceding events. In places where there is no fighting, one side shoots and people die. Then the only answer is that no one is responsible, no one did it. It is essential to find out what really happened," she told DMG. "And for this to happen it is necessary for current media restrictions to be lifted."

DMG attempted to contact Brigadier-General Zaw Min Tun from the Tatmadaw True News Information Team concerning the incident but he did not answer the phone. State media alleged that the Arakan Army (AA) was responsible for the shooting.

The Arakan Army also issued a statement, however, saying small arms fire from a Tatmadaw base located at the head of the Rar Maung Bridge was the cause of the two casualties. DMG was unable to interview U Aung Myo Oo, who was wounded in the shooting, to learn more details about the incident.