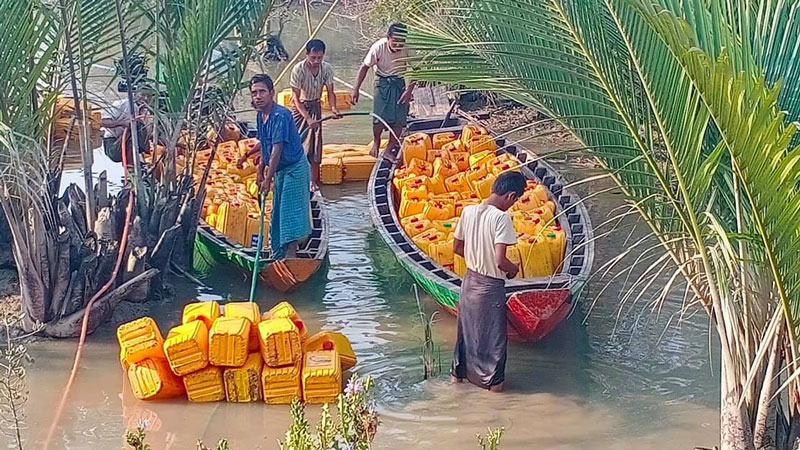 Kyaw Thu Htay | DMG
25 April, Ponnagyun
The camp for internally displaced people (IDPs) at Zedipyin village, where more than 1,000 IDPs are sheltering in Arakan State's Ponnagyun Township, is facing a water shortage, according to managers of the camp.
The IDP settlement has been grappling with water scarcity since April 1, with inhabitants relying on wells two miles away from the village and retention ponds dug along the roadside to meet their needs.
"The main problem is water shortage," said camp manager U Thu Wana Saka, a monk who also goes by the name Hnin Khar. "There are some ponds that were dug when roads were built near the villages. Some people who can afford to rent cars and bring the water. Some have to walk to the ponds and fetch water on foot."
The camp also lacks cooking pots and dishes, as well as consumer products and medicines, the monk said.
"They had only the clothes on their backs when they fled from their villages. So, they are sharing kitchenware such as pots, dishes and glasses from the village," he explained.
The Ministry of Health and Sports has issued guidelines urging the public to avoid gatherings of more than a handful of people to prevent the spread of coronavirus, but IDPs at the Zedipyin camp are finding crowding to be a fact of life as they fetch water from limited sources.
Over 1,000 people from Pauktawpyin, Aungbaungtaw, Phetkya and Pyinnetaw villages fled to Zedipyin village due to clashes between the Tatmadaw and the Arakan Army on March 18.
The long-running conflict between the two sides has resulted in more than 150,000 IDPs across Arakan State, with many facing difficulties related to lack of food, healthcare and education.