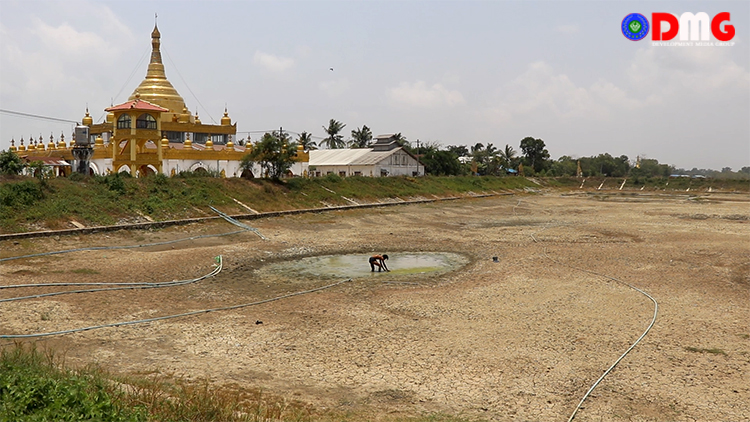 Thet Naing/ DMG
May 9, Sittwe

Thirteen villages in Arakan State are now facing a water scarcity, according to the figures of the Department of Rural Development in Arakan State compiled up to May 8.

"Villages from Sittwe, Ponnagyun, Rathedaung, Minbya, Maungdaw, Kyauk Phyu, Rambree and Thandwe Townships are facing a water shortage," said U Zeya Zaw Myo, deputy director of the department.

"More than 40,000 gallons of water have been distributed in the eight townships," he said.

Kyay Daw Pike Sate village in Sittwe Township is comprised of 2500 people living in about 240 houses, it is one of the villages facing water shortage because three out of four wells are dry while the fourth well is almost dry.

"In the summer, we face water shortages and we had to fetch water from other villages, this action wastes our time. We could not cook our food in a timely fashion," said Daw Oo Than Hmone from Kyay Daw Pike Sate village.

According to NASA's calculations, between the years of 2011 and 2040 temperatures during the summer might increase up to 1.2 degrees centigrade in Myanmar and it is likely to surge to 38.3 degree centigrade in coastal areas due to climate change.

Currently water shortages begin to occur earlier year after year and locals have to waste their time to get water.

The Myanmar Climate Change Alliance predicted that water scarcities occur earlier year by year because of the late monsoon season, high temperatures, subterranean water drying up and deforestation.

"Wells dried up earlier than last year. We consume rainwater collected in wells. Water becomes scarcer because of a lower rainfall rate," Daw Oo Than Hmone said.

The Department of Rural Development has to spend more money to access water for villagers when water scarcities break out earlier than normal.

"We negotiated with villagers to find a place to build a water tank for them. They furnished land to build a water tank, but it is a bit far from village," U Zeya Zaw Myo said.

Environmental conservation should be conducted and it takes time to reduce water shortages, the Myanmar Climate Change Alliance said.