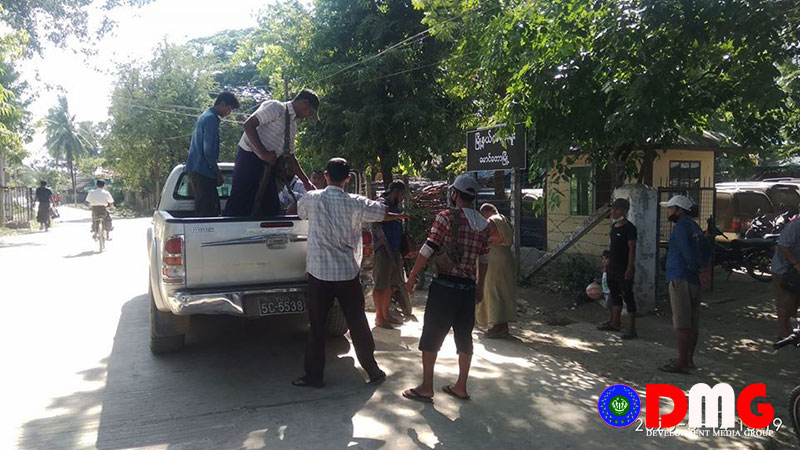 Cha Lu Aung | DMG
28 May, Maungdaw
A married couple facing charges under Myanmar's Counter-Terrorism Law over a deadly explosion they were implicated in near U Daung village in Maungdaw Township, Arakan State, have been released by the Maungdaw Township Court.
Aungbala village residents Maung Nyi Htay, 19, and Ma Sandar Win, 17, were released on May 28 by the court due to lack of charging evidence, according to a township court authority.
The pair had to sign a pledge not to go digging bamboo shoots carrying knives anymore, U San Aye Kyaw, the administrator of Aungbala village, told DMG.
"At the Alae Than Kyaw police station, they signed an assurance that they won't go outside carrying knives for digging bamboo shoots. They were told they would face legal action if they were found with knives again," he said. 
U Aung Tun Thein, a local betel quid seller who lived near an U Daung village police outpost, died on April 30 following an explosion that reportedly occurred when he unpacked a parcel that he found near a bamboo grove behind his shop.
Regarding the events of April 30, the Office of the Commander-in-Chief said an Arakan Army member died while planting a landmine near U Daung bridge on the Maungdaw-Angumaw road.
Maung Nyi Htay and Ma Sandar Win, who were in the vicinity at the time of the explosion, were arrested on suspicion of involvement and a lawsuit against them was opened at the Alae Than Kyaw police station under sections 50(a) and 50(i) of the Counter-Terrorism Law.
They were transferred to the Pyin Phyu police station for interrogation and remanded twice, on May 4 and 14, at the Maungdaw Township Court.