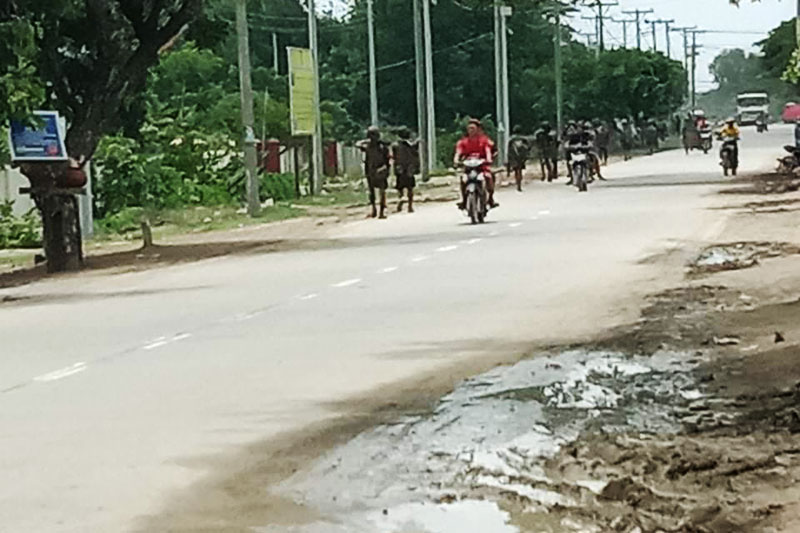 Myat Swe | DMG
2 June, Ponnagyun

A military contingent was rocked by twin mine blasts that also killed a civilian near Kinchaung Bridge on the Yangon-Sittwe highway in Ponnagyun Township, Arakan State, at 11:30 a.m. on June 2, according to locals.

The Tatmadaw column of more than 20 soldiers encountered the explosives on the way back to the Light Infantry Battalion (Khamaya) No. 550 base in Ponnagyun Township after a patrol near Sarpyingyi village on Tuesday morning, said a local who declined to be named.

"They returned to Ponnagyun from Kinchaung Bridge. The mine attacks occurred beyond that bridge. There were explosions of two mines," he added.

Some soldiers were injured in the attacks and were taken from the scene of the incident by military vehicles, according to locals.

One civilian was killed and another injured in the explosions as well. The two victims were traveling to Nadaungkya village in Ponnagyun Township by motorbike when the mine blasts occurred.

U Win Naing Soe, 47, was wounded in the attacks while U Zaw Min Oo, 38, died at the scene due to injuries to his back and occiput.

"I am a motorbike driver," U Win Naing Soe told DMG. "I had to send him [U Zaw Min Oo] to Nadaungkya village as he got married there. I saw the military column when we went to the village. Due to the mine blasts, I sustained injuries to my arm and had to crouch down. The one who accompanied me died on the spot."

U Win Naing Soe is being treated at Ponnagyun Hospital and is expected to be transferred to Sittwe Hospital, said Ko Aung Naing Soe, who assisted him.

Spokespersons for the Tatmadaw did not respond to DMG phone calls seeking confirmation of Tuesday's mine attacks.