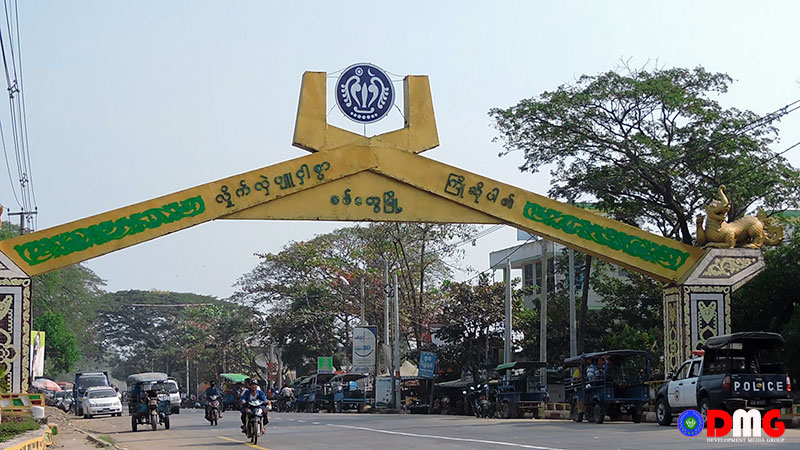 Min Tun | DMG
15 June, Sittwe 
Security arrangements are under renewed scrutiny in Sittwe, where a recent bank robbery has locals criticising what they say is a lack of public safety and rule of law in the Arakan State capital. 
Among residents, the heist at Kanbawza Bank's No. 2 branch in downtown Sittwe was viewed as particularly brazen and unsettling.  
According to a statement by the authorities, four masked people wielding knives robbed the bank at around 4 p.m. on June 10. Though security forces arrested one suspect and impounded the alleged getaway vehicle, police have yet to recover the money stolen, and the detained man's accomplices remain at large.  
Saw San Nyein Thu, chair of the Rakhaing Women's Initiative Organization (RWIO), said: "This shows there is no rule of law; situations that undermine the rule of law are occuring." 
In addition to the bank robbery, there have been multiple unsolved murders further setting Sittwe residents on edge. 
On the morning of May 25, the administrator of Setyonesu ward was stabbed to death by four masked assailants while he was buying betel quid in Mawlate ward. 
"The killing of a ward administrator appointed by the government shows weak rule of law," said U Zaw Zaw Min, a lawyer. "The government needs to release information about who or which organisation is responsible for the murder. The rule of law is very weak. The people are frightened." 
On February 28, the owner of a rice wholesale centre in Sittwe's Ohe Tan ward was found brutally murdered, with her neck slashed and jewelry stolen. 
Daw Phyu Phyu Than, a local resident, said of the crime in Sittwe: "There isn't any security in such a city. All people in Sittwe are worrying day in and day out." 
U Tha Pwint, a former town elder from Sittwe, said one need only look at the calendar for an explanation.  
"The administrative sector usually becomes weak when the election is drawing near," he said. "Because now the election approaches, the government is weak in handling any matter." 
On October 4, 2019, the owner of a construction company in Sittwe's Kyaungtetlan ward and a driver were fatally shot by unidentified gunmen. Both victims survived but as with several other cases, the perpetrators are still on the run, contributing to public doubts about law enforcement's ability to safeguard the state capital.