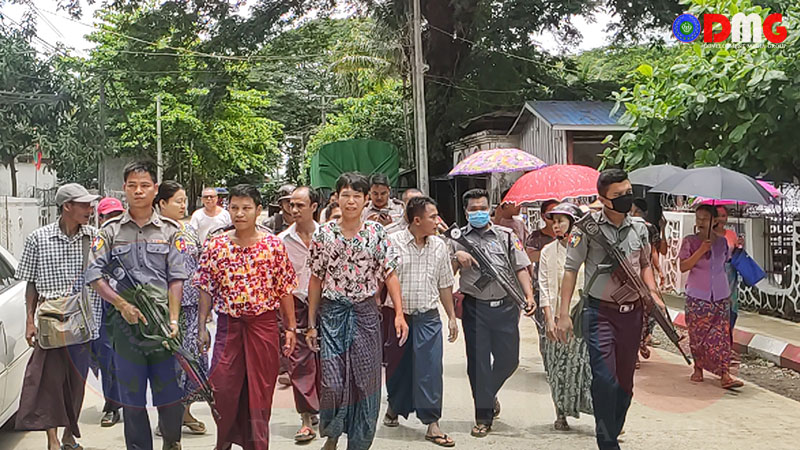 Myo Myint Zaw | DMG
15 June, Thandwe

A court in Taungup Township, Arakan State, began hearing witnesses for the plaintiff in a case against five men from Sar Pyin village facing charges under Section 52(a) of the Counter-Terrorism Law, a lawyer representing the accused told DMG.

The five men appeared before the Taungup Township Court on June 15 for the third time and the plaintiff, Major Myint Zaw Aung from the Tatmadaw's No. 5 Military Operations Command, was also questioned by the court for the first time.

"When the court asked the plaintiff as to whether he made a trip to Sar Pyin village to check and verify the case or not, Major Myint Zaw Aung replied 'No,'" said the defendants' lawyer, U Tin Nyo.

In addition to the plaintiff, the court also questioned Sar Pyin village administrator U Win Myint, a prosecution witness, and a third person, he added.

The five defendants including Sar Pyin village's Arakan National Party chapter chairman, U Pyone Cho, were arrested on April 5 and later arraigned on the Counter-Terrorism Law charges over suspected links to the Arakan Army (AA).

Among the five Sar Pyin villagers, U Aung Htoo has two school-aged children and the family is struggling under the circumstances, said his wife Daw Aye San Thein.

"My daughter and son can't go to school because we are in trouble," she told DMG.

Another 22 prosecution witnesses are expected to be called to testify as the trial continues, according to the defendants' lawyer.