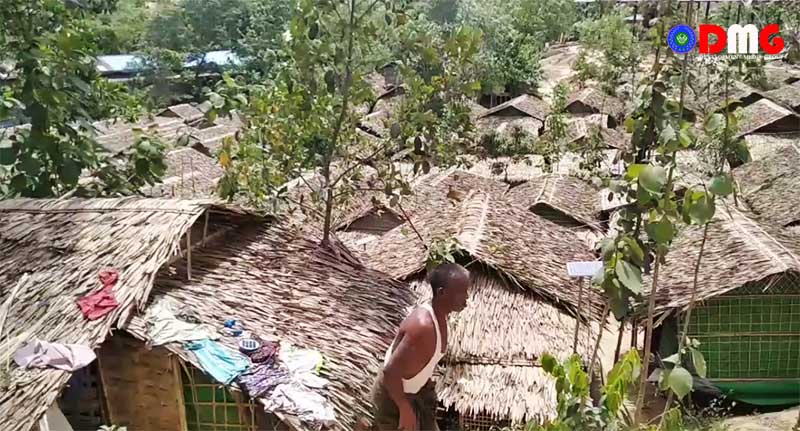 Kyaw Myo Aung | DMG
2 July, Maungdaw 
With nine confirmed COVID-19 cases in Arakan State's Maungdaw District, thousands of internally displaced people (IDPs) in the district are increasingly concerned about transmission of the virus. 
Although the Myanmar government has closed repatriation camps during the pandemic, dozens of people are believed to have illegally returned from Bangladesh over recent weeks, according to the Maungdaw District General Administration Department. 
All nine of the coronavirus positives in the district — seven in Maungdaw Township and two in Buthidaung Township — reportedly entered Myanmar unlawfully from Bangladesh. 
Residents from about 30 villages in Buthidaung Township have been displaced from their homes due to clashes in the township. The places where they have temporarily taken shelter are often crowded, raising the risk of rapid spread of the virus if an IDP becomes infected, said Arakan State lawmaker U Tun Aung Thein from Buthidaung Township. 
"If COVID-19 reaches a refugee camp, it is anxiety-inducing for IDPs who are taking shelter in crowded camps," he said. 
There are more than 20 IDP camps in Buthidaung Township hosting over 13,000 people, according to government data. 
An IDP from a displacement camp in Buthidaung town said he was worried about coronavirus contagion after hearing about COVID-19 cases in the township. 
"Doctors and nurses came and told us to wash our hands and cover our mouth. I am doing what they instructed," the IDP said. 
Dr. Saw Min Thein, superintendent of Buthidaung Township Hospital, said the Health Department carried out public awareness campaigns about COVID-19 at the IDP camps and arranged facilities for hand-washing, but could not distribute masks. 
"If someone returns from Yangon or abroad, we will not allow them to stay at IDP camps. We will send them to stay in quarantine at community-based quarantine centres at the border," he said. 
More than 140 people who had close contact with the coronavirus-positive patients in Maungdaw District are also under quarantine. 
Maungdaw District's Immigration and Population Department has opened a lawsuit against 29 people who crossed the border illegally under Sections 13(1) and (5) of the Immigration Law; 19 people from Maungdaw Township and 10 from Buthidaung Township.