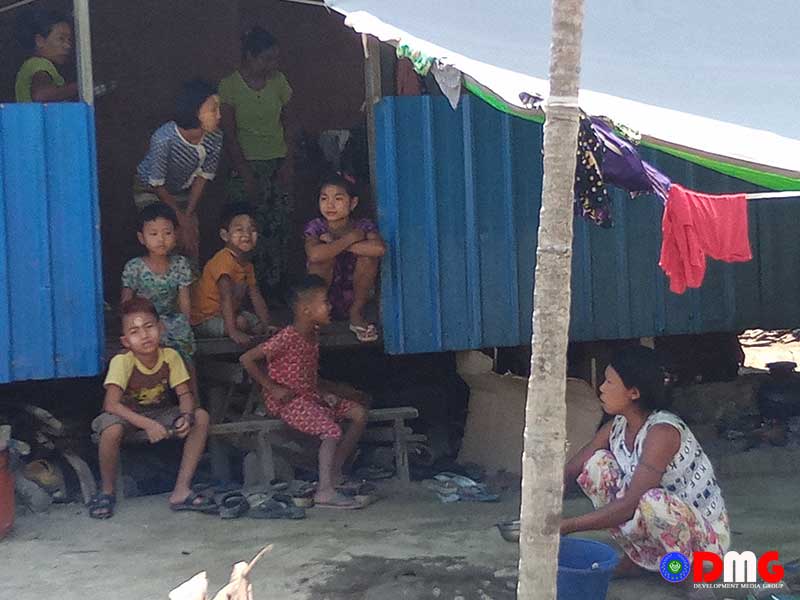 Min Tun| DMG
9 July, Sittwe 
The hardships of everyday life for tens of thousands of internally displaced people (IDPs) — worries about having adequate food, clothing, shelter, and healthcare — are such that few have the time or interest at the moment to pay much attention to the upcoming 2020 general election, IDPs say. 
U Shwe Mya, who fled Meeletwa village in Paletwa Township, Chin State, to the Arakan State capital Sittwe, said: "We are trying to safeguard our lives during clashes. So, we do not have time to think about the election." 
The Union Election Commission on July 1 announced that the 2020 general election would be held on November 8. 
U Aung Nyunt Thein, a resident of Tinma village in Kyauktaw Township, said IDPs are not interested in the election because they did not have the luxury, having been displaced to unfamiliar lands and makeshift accommodation. 
"If we can live peacefully at our home and can do our own business, we can be interested in the election. Now, we are in trouble for living and we cannot do cultivation at our farmland," he said. 
Daw Tin Hlaing, chair of the Arakan State election sub-commission, said the sub-commission was arranging for polling booths for IDPs. 
There are more than 1.6 million people registered as eligible voters for the election in Arakan State, and the sub-commission has appropriated funds to build about 2,600 polling booths in Arakan State, the sub-commission said.
According to the Rakhine Ethnics Congress, there are more than 190,000 IDPs in Arakan State due to ongoing conflict between the Tatmadaw and the Arakan Army.