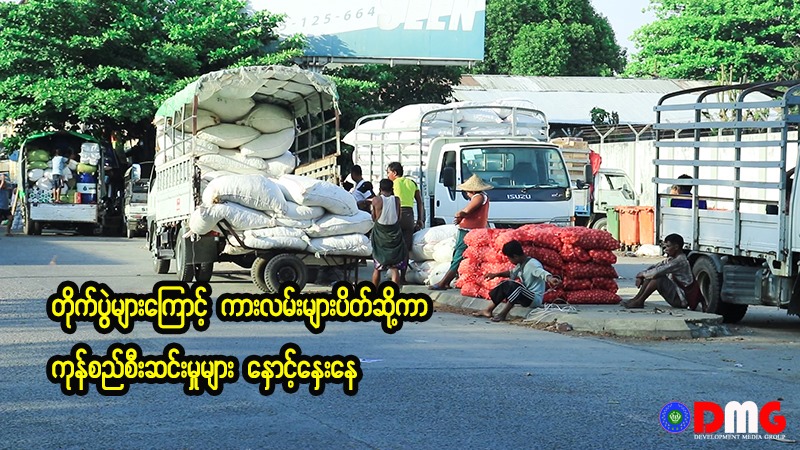 Myo Thiri Kyaw| DMG
27 July, Sittwe

Due to clashes occurring between the Tatmadaw and Arakan Army on or near roads in Arakan State, transportation has been disrupted and trade flows are being delayed, traders say.
Greengrocery shipments are turning up rotten as a result, with trucking operators having to provide compensation to the owners and purchasers of the produce, according to an in-charge of a truck station in Sittwe.
"Transportation is disrupted during clashes and greengroceries are rotten. We have to negotiate with the owners of the greengrocery when we face such situations because they are our customers," he said.
The transportation disruption has also caused goods shortages in Sittwe and consequent price hikes, said U Abu Chay, a trader in the Arakan State capital's Myoma Market.
"When goods cannot arrive in time, a shortage in the market causes increasing prices," he said.
The Tatmadaw and Arakan Army fought on July 20 along the Yangon-Sittwe road near Rar Maung bridge in Minbya Township, and clashes broke out near that area again the following two days, both sides said. Hundreds of vehicles including commodity trucks were trapped due to the three consecutive days of fighting near the road, which is a major artery for regional commerce, residents said.
Clashes are a regular occurrence along the thoroughfare in Minbya Township, according to locals.
Traders are facing losses as the perishable produce they ship from Yangon increasingly turns up spoilt.
"A total of 50% of the greengrocery I source from Yangon was rotten. I suffered heavy losses this year," said Ko Hla Tun, who sells vegetables and other greengrocery at the Myoma Market. "I lost about K2 million [$1,460] so far."
Aubergine, beans, pumpkin and potato are primarily shipped in from Yangon, Minbu and Pyay, according to vendors.