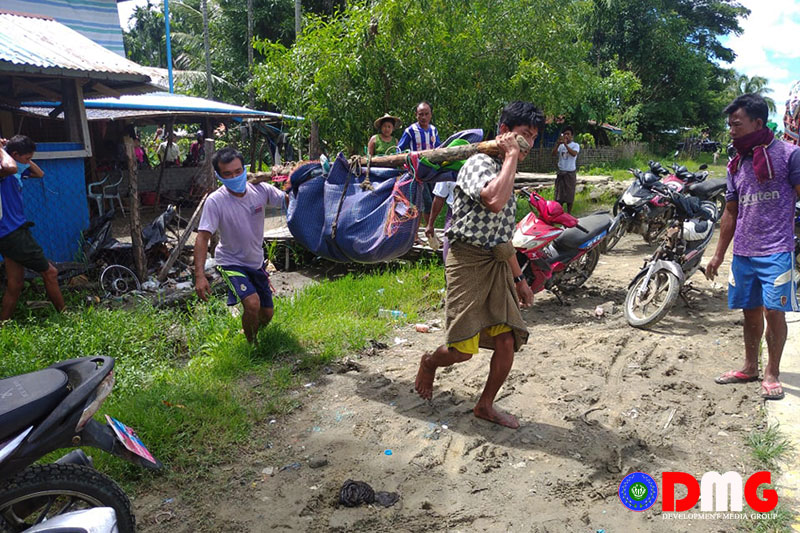 Kyaw Myo Aung and Hnin Nwe | DMG
31 July, Rathedaung 
The body of a villager who was allegedly shot dead by the military weeks ago was discovered in a latrine on July 31 in the compound of his home in Chainkharli village, Rathedaung Township, said family members of the victim. 
On July 13, some people were trapped in Chainkharli village while other residents fled to safer locations after an armed clash broke out between the Tatmadaw and the Arakan Army near the village. 
A member of the security forces allegedly shot and killed a 60-year-old man identified as U Maung Tun Sein, who was reportedly hiding in his home with his family when the military entered the village, the victim's widow Daw Oo Tin Nyunt told DMG. 
According to reporting by the Democratic Voice of Burma (DVB), however, Maj-Gen Tun Tun Nyi from the Tatmadaw True News Information Team said the military contingent did not open fire in Chainkharli village and no civilian casualties were reported. 
The trapped villagers were rescued by the village administrator and residents on July 14, but the body of U Maung Tun Sein was not located at that time. 
Some residents who had fled their homes returned to the village in recent days and the body of the missing man was found in a latrine at the back of the victim's home. 
"Some people stay at a nearby house of the victim. They found the body of my father-in-law in a latrine as a rotten smell wreaked havoc on the village," said Ko Maung Pu Yay, son-in-law of the victim. 
A border guard police outpost near Chainkarli village was informed about the discovery of a dead local resident, but an investigation has yet to be launched, said village administrator U Tun Tin Soe. 
The body of U Maung Tun Sein was to be cremated at the village cemetery on Friday evening.