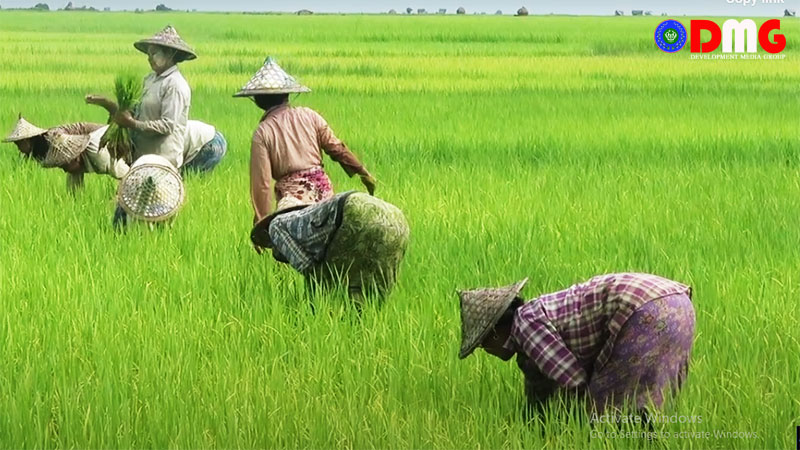 Hnin Nwe | DMG
8 August, Sittwe 
Farmers report facing difficulties transporting fertilisers in some townships of northern Arakan State due to ongoing conflict between government troops and the Arakan Army (AA). 
The transport of fertilisers from Sittwe requires the referral of relevant township departments of agriculture as well as permits stipulating the number of bags of fertilisers from the Arakan State Ministry of Security and Border Affairs, causing delays in the transport of stockpiles into the hands of paddy growers. 
"Only when we show the recommendation of the minister to the checkpoints, officials wave us through. If we don't have a permit, will they arrest us for illegal purchase of fertilisers," Daw Khin Chaw Su, a fertiliser broker in Mrauk-U, told DMG.  
Likewise, those who have bought fertilisers from Yangon need to carry those bags during set dates, and only after first seeking permits. If bags of fertilisers are transported outside the set dates, it will be considered illegal, explained Daw Nanda Lin, a fertiliser broker from Thayettabin village in Kyauktaw Township. 
As such, farmers are struggling to get fertiliser to their paddy plants in time, they say. 
"When we ask for fertilisers, sellers reply to us that it has not arrived yet or has run out, or 'wait for a few days.' The truth is, we have to feed fertilisers to paddy plants in time," said farmer U Pan Hla Aung from Oakkan village in Mrauk-U Township. "If not, the paddy yield will decline. Paddy plants won't thrive as usual. If so, local farmers face great losses." 
Moreover, farmers could purchase fertilisers suitable for farmlands and plants in person in previous years but clashes have caused difficulties in transportation. So, local farmers use fertilisers sold locally, said U Aung Kyaw Mya from Pyaungseik village in Kyauktaw Township. 
"The fertiliser I always use is unavailable here. And it's difficult to buy fertilisers from Sittwe because it is necessary to seek permission from the state minister for Security and Border Affairs. In using low-quality fertilisers, paddy plants can't thrive well. So, it is sure to decline per-acre yields of paddy this year. If the authorities allow us to take fertilisers without any permits, farmers can use fertilisers suitable for their farmlands and plants," he added. 
With regard to the fertiliser situation facing farmers in northern Arakan State, DMG contacted Colonel Min Thant, the Arakan State minister for Security and Border Affairs, but he replied that he was attending a meeting. 
Last year, more than 50,000 acres of farmlands could not be cultivated due to fighting in some townships of northern Arakan State. An even larger swath of farmlands is expected to go unploughed this year as fighting in the region has intensified.