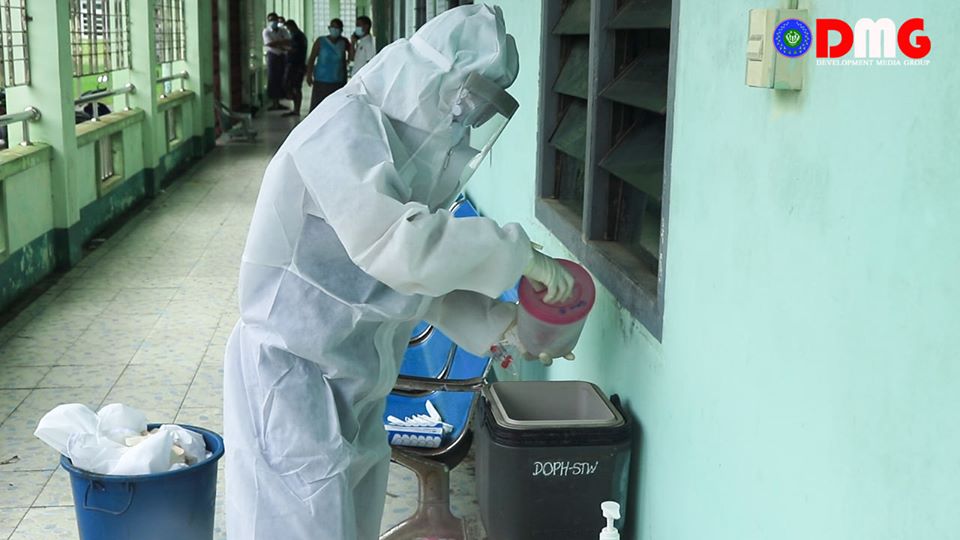 Kyaw Thu Htay | DMG
22 August, Sittwe

The Department of Medical Research under the Ministry of Health and Sports is set to launch a probe into a spate of coronavirus infections in the Arakan State capital Sittwe, which is said to be a mutation of the virus's original strain that is more contagious.
In a statement on August 22, the ministry said there were likely to be asymptomatic cases and transmissions of the virus in the outbreak currently impacting Arakan State, where 51 people tested positive for COVID-19 from August 16-22.
More information would be known after further laboratory testing, said Dr. Soe Win Paing, assistant director of the Department of Public Health under the ministry.
"We will be able to know an exact answer after the lab test. We cannot explain the details for the time being. All coronavirus-positive patients are hospitalised but they are doing well," he said.
Steps are being taken to limit coronavirus infections in Sittwe and contain the spread of the virus to other areas. The Ministry of Health and Sports has urged Sittwe residents to strictly abide by lockdown restrictions imposed by the ministry and local authorities.
Dr. Myat Htut Nyunt, deputy director of the Department of Medical Research, told The Irrawaddy news agency on August 20 that the recent spike in cases involved a genetic mutation of the virus — a strain known as G614, as opposed to D614 — that was 10 times more infectious.
The 51 coronavirus cases reported in Arakan State from August 16-22 represent a dramatic spike in infections, and include the first local transmissions reported in Myanmar in more than a month.
Prior to the recent outbreak, there had been just 16 coronavirus cases in total reported in Arakan State.