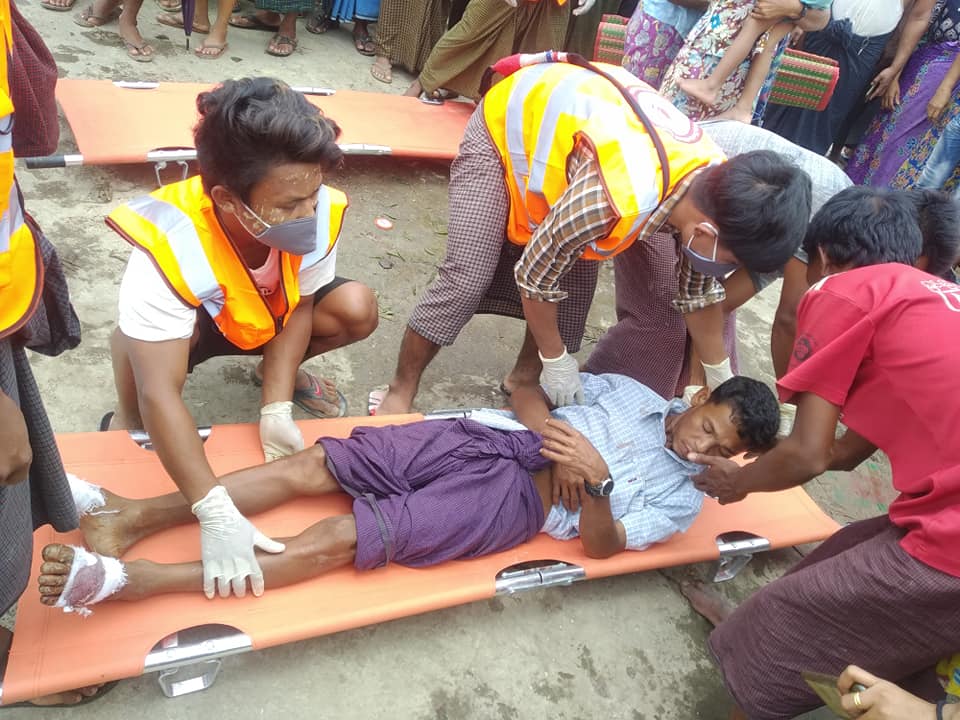 Hnin Nwe | DMG
23 August, Rathedaung
 
At least five people in Rathedaung Township, Arakan State, were wounded by artillery shells allegedly launched by the military on August 22.

Two artillery shells landed and exploded in Kyaukyan Thazi village, which is part of Kyauktan village-tract in Rathedaung Township, at about 7 p.m. on August 22, village administrator U Thant Nyunt Shwe said.

A 16-year-old girl named Ma Lone Pauk Pauk, three people in their 40s identified as U Tun Tin, U Kyaw Aye and Daw Aye Than Nu, and an 18-month-old baby girl named Ma Khin Myat Myat were injured in the shelling.

The village administrator accused a military regiment stationed at Manyintaung village near Kyaukyan Thazi village of firing the ordnance.

"Two artillery shells landed and exploded in the village. The first shell hit a house, injuring some people in the house. The second shell landed near the house and some people were wounded by shrapnel. Military troops open heavy fire on the village frequently," he added.

Ma Lone Pauk Pauk's abdomen was wounded by shrapnel while U Tun Tin sustained a shrapnel wound to his forehead. U Kyaw Aye's legs and arms were injured by shrapnel in the incident.

In addition, the 18-month-old received a shrapnel wound to her ear and her mother lost consciousness due to one of the artillery blasts.

Among the injured, Daw Aye Than Nu's condition is considered life-threatening and she was transferred to Rathedaung Hospital, according to residents.

DMG contacted Brig-Gen Zaw Min Tun and Maj-Gen Tun Tun Nyi of the Tatmadaw True News Information Team seeking comment on the incident, but they could not be reached.

The number of civilian casualties has continued to rise over the past two years amid intensifying armed conflict between the military and Arakan Army (AA) in Arakan State.

U Khin Maung Latt, an Upper House lawmaker representing Rathedaung, said artillery shells should not be fired and hostilities should be curbed amid mounting concerns among people in Arakan State over a recent spate of COVID-19 infections in the region.

"Artillery firing without hostilities can harm people to a certain extent. The clashes make people's lives more difficult because many residents in Arakan State are facing livelihood hardships and hunger due to the ongoing coronavirus pandemic," the Upper House legislator said.

Fifty-nine people tested positive for COVID-19 in Arakan State from August 16-23, with cases reported in Sittwe, Mrauk-U and Thandwe townships.

The figure represents a dramatic spike in infections, and includes the first local transmissions reported in Myanmar in more than a month. Prior to the recent outbreak, there had been just 16 coronavirus cases in total reported in Arakan State.