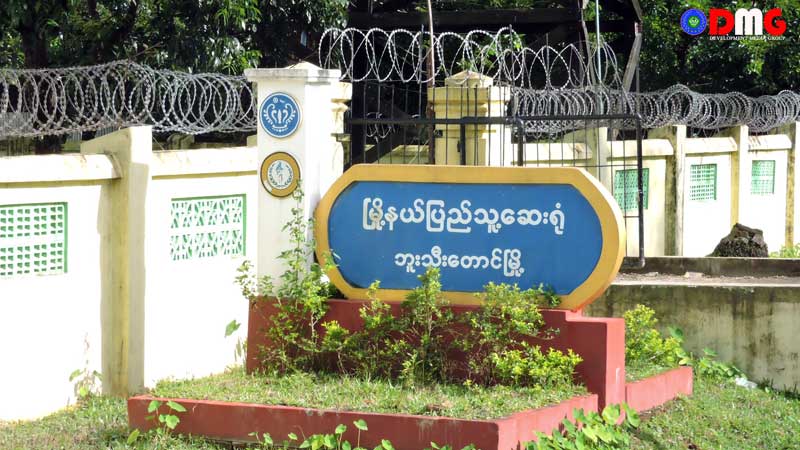 Kyaw Myo Aung | DMG
25 August, Buthidaung 
The number of COVID-19 patients in Buthidaung Township, Arakan State, had reached four as of 8 p.m. on August 24, according to a statement from the Ministry of Health and Sports, with that total including one high school student. 
The 15-year-old female attends a private boarding school in Sittwe, according to the Buthidaung Township Department of Health. 
The four positive cases were reported out of 37 people who returned to Buthidaung Township from Sittwe and were tested for coronavirus.   
The female student's father, who took her back to Buthidaung Township, tested negative. The patient's family members have been put under facility quarantine and will undergo health checks by the Health Department.  
Students and teachers from the boarding school are also in facility quarantine and they too will be given medical checkups, said Dr. Zaw Min Thein, medical superintendent of the Buthidaung Township People's Hospital. 
In addition to the 15-year-old, who was designated Case No. 469, a 75-year-old and a 24-year-old who shared a flight with an NGO worker who previously tested positive for coronavirus were among the four Buthidaung cases, according to the Buthidaung Township Department of Health. 
The houses of the confirmed patients have been put on lockdown and those who had close contact with them are being put under facility quarantine. 
U Hla Shwe, deputy commissioner of the Buthidaung Township General Administration Department, said: "The department has issued a warning that those who go outside without face mask shall face a fine of K10,000 [US$7.40] in Buthidaung Township. Since August 25, the department has started taking action against those who fail to abide by it." 
"The department has distributed face masks to the IDP camps and has urged the people to follow the instructions issued by the Ministry of Health and Sports," he added.  
As Arakan State's coronavirus case count continues to rise, a partial restoration of internet access in several Arakan State townships including Buthidaung and Chin State's Paletwa Township is again under scrutiny, with critics saying the government is making access to timely information difficult to come by. 
Seven townships in Arakan State and Paletwa Township were given access to only a 2G network on August 1, after more than a year without any mobile internet access. 
Due to the poor internet access in Mrauk-U Township, where three confirmed cases have been reported, signboards showing the latest information about COVID-19 are on display in public areas. 
From August 16-25, a total of 105 COVID-19 cases were reported in Arakan State — 81 in Sittwe Township, 12 in Pauktaw Township, three in Kyaukphyu Township, two in Thandwe Township, three in Mrauk-U Township and four in Buthidaung Township.