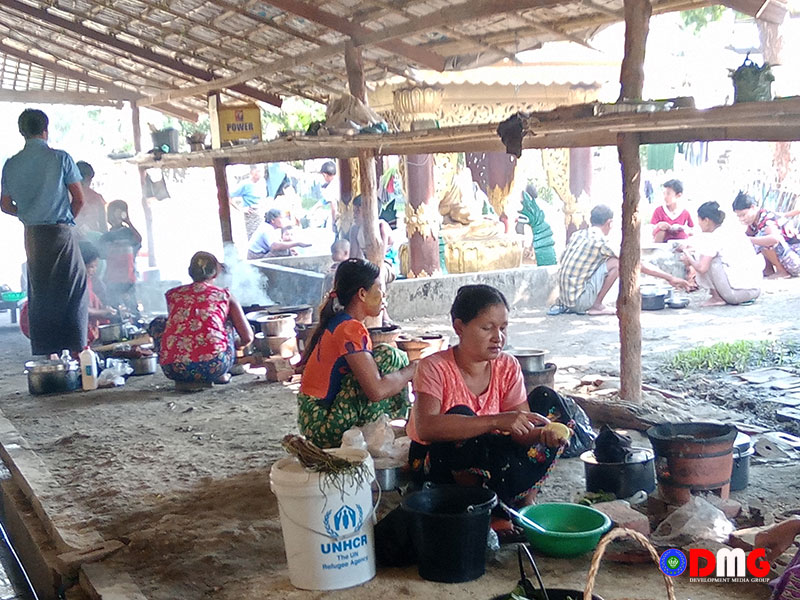 Min Tun | DMG
27 August, Sittwe 
Voting for internally displaced people (IDPs) in Arakan State will depend on the security situation as the November 8 poll approaches, according to Daw Tin Hlaing, chairperson of the Arakan State election subcommission. 
Many IDP camps are located in areas where clashes between the Tatmadaw and the Arakan Army (AA) are ongoing, making voting by displaced populations subject to the security conditions on the ground, she said.  
"We can arrange for IDP voting if their gathering points are located in safe places. The polling stations may be moved. We can do it if the Union Election Commission [UEC] gives the green light. Security is of great importance," she said.  
The Arakan State election body chair went on to say that the UEC would provide specifics on IDP voting closer to the date of the election.  
"The UEC will announce the IDP voting [plan] when the election draws close. It depends on the latest developments. They [IDPs] may cast their votes if the situation is OK in the future. I cannot say exactly. There may be changes later," she added. 
The number of IDPs in Arakan State has climbed to about 200,000 due to the ongoing conflict between the military and the Arakan Army, according to the Rakhine Ethnics Congress (REC). 
The hardships of everyday life for IDPs — worries about having adequate food, clothing, shelter, and healthcare — are such that their interest in the upcoming general election is reportedly low.    
The election commission plans to open around 2,600 polling stations in Arakan State. There are more than 1.6 million eligible voters statewide.