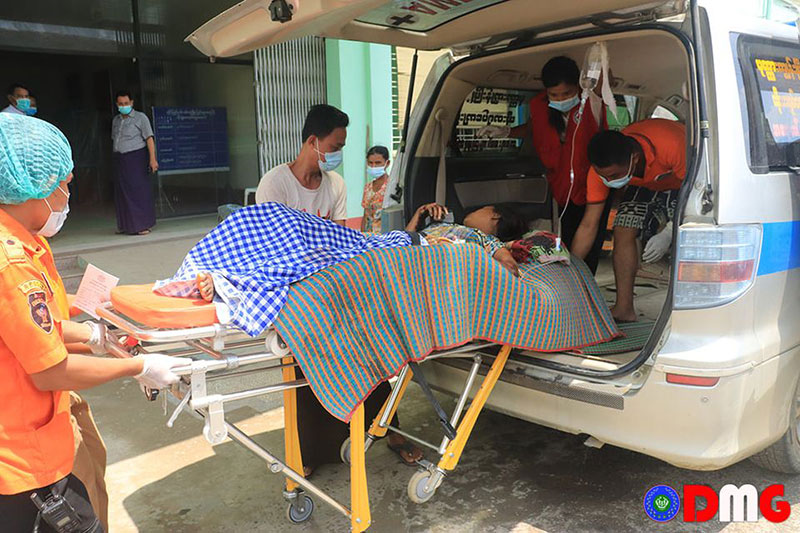 Aung Htein | DMG
5 September, Ponnagyun 
A young woman from Buddaw village in Ponnagyun Township, Arakan State, was seriously injured after stepping on a landmine on September 5, according to a family member of the victim. 
Eighteen-year-old Ma May Soe lost a leg in the landmine encounter, which occurred at about 7 a.m. while she and seven other women were going to the forest to forage, said the victim's uncle U Maung Hla Chay. 
"She, together with her friends, went to the jungle to collect bamboo shoots. She unintentionally stepped on a landmine about 20 minutes later. She was severely wounded by the landmine blast," he added. 
The victim lost her right leg and was transferred to Sittwe General Hospital for medical treatment as her condition is considered life-threatening. 
Buddaw village is made up of about 100 households and majority of residents earn a living from farming. 
Locals have said there is growing concern about their safety and the risks of working their fields due to increasing landmine encounters and a concomitantly rising casualty count. 
Two men from Kanthar village in Ponnagyun Township also lost legs when they stepped on landmines on an expedition to collect firewood in May. 
At least nine civilians were killed and 30 were wounded in Arakan State last month in incidents related to the ongoing conflict between the military and the Arakan Army.