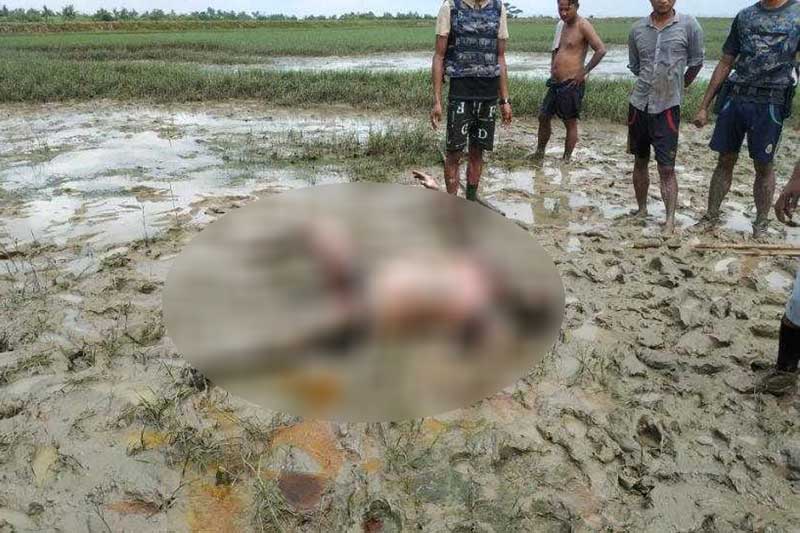 Kyaw Myo Aung | DMG
8 September, Maungdaw 
A murder case has been opened against the owner of a shrimp pond in Maungdaw Township, Arakan State, after a police officer was found dead near its waters on September 7. 
The Ngakhuya police station filed the charge under Section 302 of the Penal Code on September 8, and the man was taken into custody by the Maungdaw Township Court the same day. 
"The accused was sued under Section 302 and remanded into custody until September 22," a township court official said. 
The 55-year-old arrested over the policeman's death has been identified as U Maung Tun Sein. The wife of the detainee, Daw Ma HlaWin, said her husband is innocent and did nothing wrong.
"This shrimp pond has been abandoned since violence in 2017 due to the absence of workers," she said. "You know the border guard policemen have weapons. How could my husband have killed a policeman equipped with a gun?" 
Two border guard police officers from Thayet Oak police outpost — identified as Zeyar Myo and Myint Thein — went missing along with their guns while travelling to Ywet Nyo Taung village to transfer their salaries to their families on September 5, according to a police officer who declined to be named.
Zeyar Myo was found dead near Ywet Nyo Taung village with his neck and genitalia slashed.
The deceased policeman's eyes were pierced, the Tatmadaw True News Information Team said in a press release on September 8.   
The military's public relations outfit said security personnel were searching for the other missing policeman. Based on an initial investigation, the Tatmadaw has alleged that the two policemen were ambushed by the Arakan Army (AA) or the Arakan Rohingya Salvation Army (ARSA).
DMG was unable to contact either group for comment as the government has declared both to be terrorist organisations, making communications with them legally jeopardous.