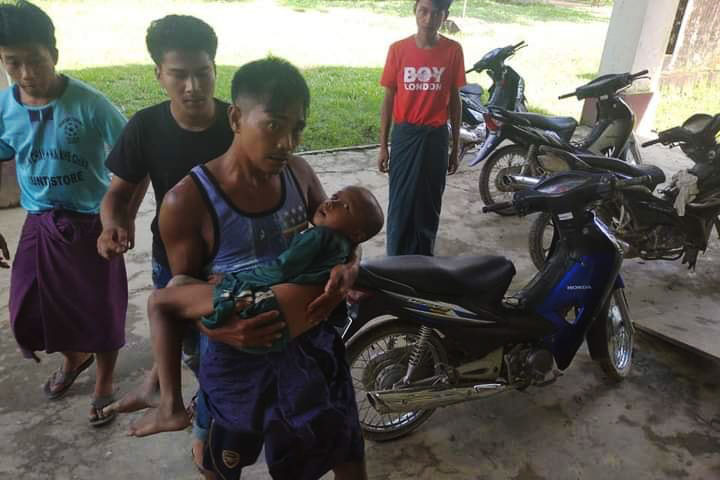 Myo Thiri Kyaw | DMG
11 September, Rathedaung 
A 6-year-old boy from Aungzigone village in Arakan State's Rathedaung Township was wounded by an artillery shell believed to have been fired by the Tatmadaw on September 11, according to locals. 
The victim was reportedly injured by shrapnel when ordnance hit a tree and exploded near the house of U Maung Shwe Than at about 2:30 p.m. on Friday. 
The boy sustained wounds to his left arm and shoulder and is currently receiving treatment at Zedipyin station hospital, said U Maung Shwe Than, the victim's father. 
"My son needs to get X-ray scans because his shoulder bone was hit by shrapnel. He will be transferred to Sittwe General Hospital as there is not an X-ray machine [at Zedipyin]," he added. 
Residents have accused two naval vessels stationed in the Mayu River of opening small arms fire on nearby villages on September 9. 
Some homes in Khanaunggyi village on the east bank of the Mayu River were damaged and two oxen were injured by the small arms fire, locals said. 
On the same day, residents hid themselves in bomb shelters and two homes were damaged by an artillery shell as troops opened fire on Ywathitkay village, said Ko Aung Hsan Hlaing, a village resident. 
"The military dropped about 20 artillery shells on the village at around 2 p.m. while some youths were using the internet on a hill. Some homes were destroyed by the artillery strikes," he said. 
DMG contacted Brig-Gen Ye Yint Aung of the Tatmadaw True News Information Team for comment on the shellings, but he could not be reached. 
Gunfire has been regularly reported in Rathedaung Township in recent days, said Ko Bekka, who assists internally displaced people (IDPs) in Arakan State.