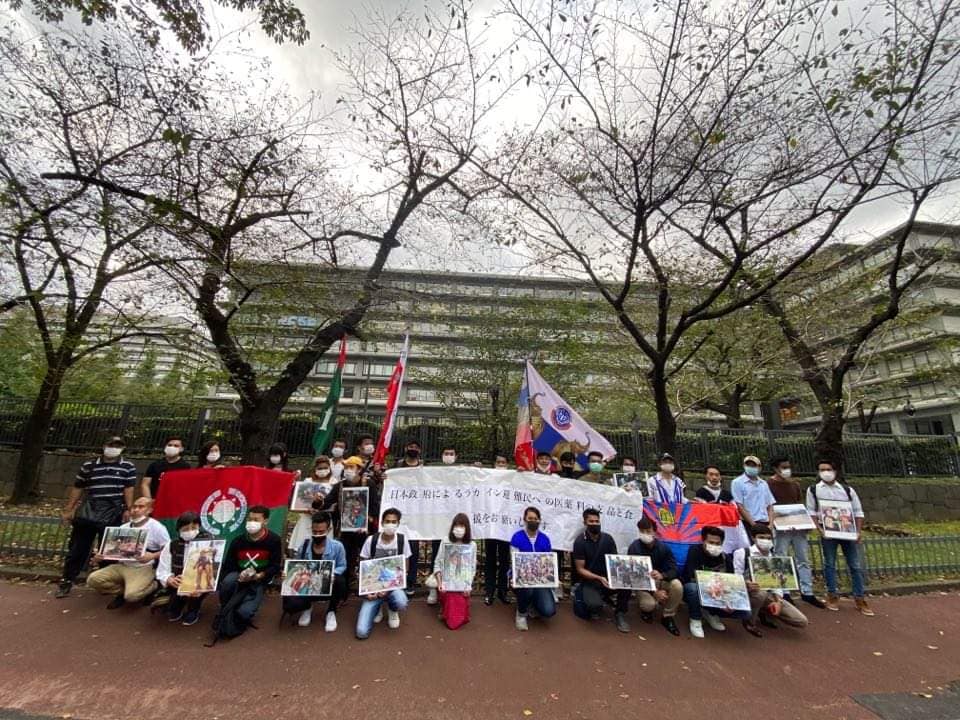 Nyan Hein | DMG
18 September, Sittwe
Myanmar ethnic nationals living in Japan have called on the Japanese government to provide assistance to internally displaced people (IDPs) in Arakan State.

About 200,000 people have been displaced by conflict between the Tatmadaw and the Arakan Army, which will unofficially enter its third year this upcoming December.

"We have asked the officials to provide humanitarian assistance to the IDPs via the Japanese foreign affairs minister," said Ko Thaw Zin Phyo, secretary of the Arakan Youths Union–Japan.

"Our demand is to mainly provide the IDPs in Arakan State with medicine and rations. The Myanmar government has blocked the flow of commodities, citing the spread of COVID-19," he told DMG.

More than 50 ethnic Arakanese, Kachin and Karen people in Japan staged a demonstration in front of Japan's Ministry of Foreign Affairs in Tokyo on September 17.

"As an Arakan organisation in Japan, we asked for help as the Japanese government is engaging in Myanmar's politics. We believe that the Japanese government plays a role in politics to a certain extent," Ko Thaw Zin Phyo added.

Prior to Thursday's demonstration, protesters met with an official from Japan's Foreign Affairs Ministry and implored the ministry to help solve the multiple crises currently afflicting Arakan State.

Ko Kyaw Than Hlaing, chair of the Arakan Youths Union–Japan, said: "Now more than 200,000 people have been displaced by the burning of houses and the arrests and killings of the people in the villages by the Myanmar Tatmadaw. The entry of foreign organisations into the IDPs camps is banned."

The Tatmadaw has denied accusations of its troops being responsible for acts of arson in villages, as well as refuting other allegations of widespread human rights abuses in Arakan State.