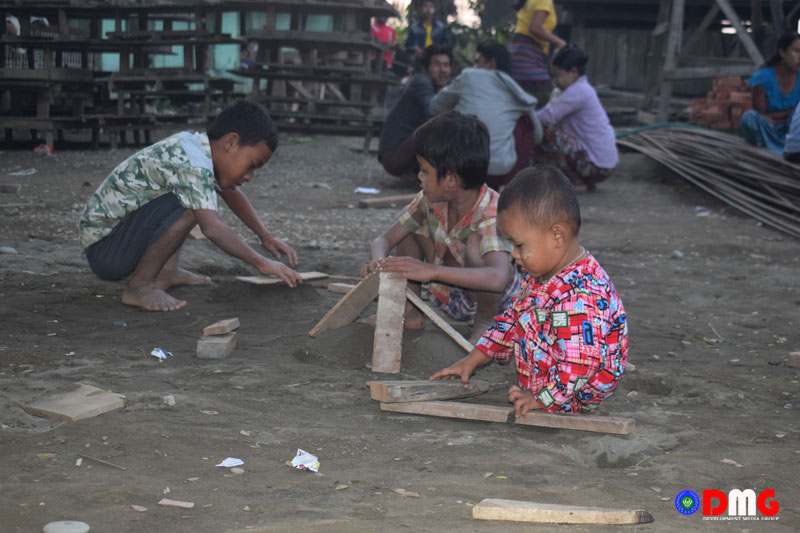 Kyaw Myo Aung | DMG
20 September, Rathedaung
Overcrowding at camps for internally displaced people (IDPs) in downtown Rathedaung, Arakan State, is making it difficult for them to accommodate the arrival of more IDPs.
"The IDP camps in downtown Rathedaung are overcrowded. They can no longer accept new IDPs. People who left homes in Shwelaungtin village went to Sittwe to take shelter there as IDP camps in Rathedaung cannot accept them," said U Khin Maung Latt, an Upper House lawmaker representing Rathedaung Township.
About 30,000 displaced people are currently sheltering at 21 temporary relief camps opened at Buddhist monasteries in downtown Rathedaung such as Shwe Parami, Kinthar, Dhamma Yeiktha, Poppayon Kyaung, Danyawaddy, Dhammayongyi, and Sasanapala.  
"There is no place for the displaced people in downtown Rathedaung at all," said Ko Bekka, who is assisting the IDPs. "Three families have to stay at accommodations that can house one family only. We presented a request to the local government to set up relief camps for the displaced people near the township sports grounds, but the proposal was rejected."
Many residents from more than 40 villages in Rathedaung Township such as Yaysoechaung, Yayboke, Yaymyet, Kyauktan, Thaungdayin, Thameehla, Ngasanbaw, Kanpyin and Ugar have fled to safer locations amid conflict between the Tatmadaw and the Arakan Army in the region.
Local authorities are finding new locations to create additional relief camps for displaced people due to lack of space for the IDPs in downtown Rathedaung, said U Aung Myint Thein, the township administrator.
"We are making arrangements to build new relief camps for the displaced people. The new location will not be far from downtown Rathedaung. Together with lawmakers, we recently planned to visit the new location for IDP camps, but the trip was cancelled due to gunfire. I am planning to go to the new location today," he added, speaking to DMG on September 19.
One relief camp already built by the local government is located near the Thaungdara Bridge, but no IDPs are currently living there as it is said to be located in a conflict zone.