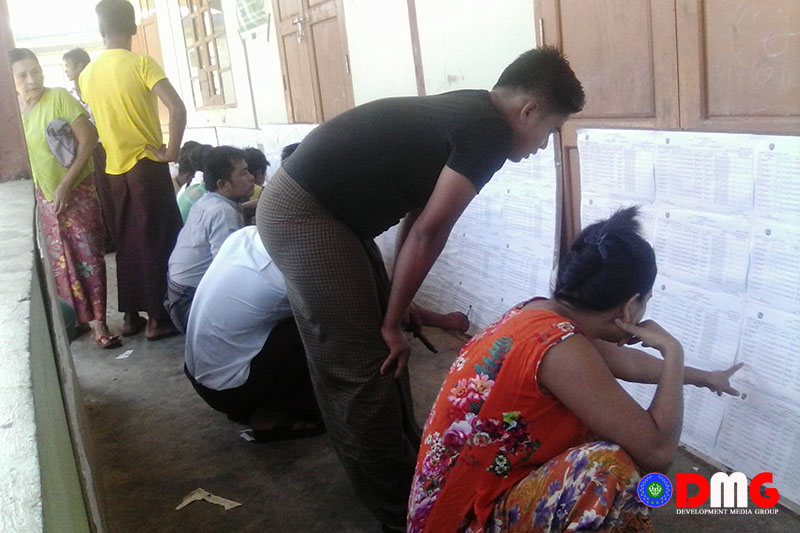 Min Tun | DMG
23 September, Sittwe 
The number of eligible voters in Arakan State increased by nearly 4,000 during a recent second round of voter registration efforts, according to the state election subcommission. 
There were more than 1,643,000 voters in Arakan State on the first voter lists compiled for the November 8 general election, and following initial voter list displays and amendments to the rolls, there are now more than 1,647,000. 
"Previously, we conducted the collection of voter list [information] on a door-to-door basis and some people were not at home at that time. In the second round of voter registration, some more people were included in the list," said U Thurein Htut, secretary of the Arakan State election subcommission.
 The second iteration of voter lists can be viewed on the website of the Union Election Commission (UEC) as the government has imposed stay-at-home orders amid the ongoing coronavirus pandemic, he added. 
That plan is not without its hitches, however: After more than a year without any mobile internet access, seven townships in Arakan State saw connectivity restored — but only on a limited, 2G network — last month. Critics of the government's internet policy say the 2G network is inadequate, with connection speeds severely limiting online capabilities. 
Physical voter lists for the latest "display" period can only be viewed in-person at the relevant election commission offices in the townships where internet access is limited, U Thurein Htut said. 
Interest in the upcoming vote in Arakan State is thought to be lower than in the 2015 general election as the region this year is burdened by ongoing armed conflict and a surge in coronavirus infections that has also dealt a blow to local economies and livelihoods.